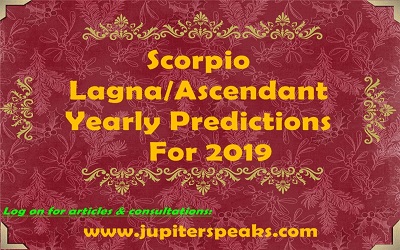 Scorpio Ascendant 2019 Horoscope Predictions
Scorpio Ascendant 2019 Predictions –  As the Year 2019 knocks the door Scorpio Ascendant / rising signs males and females  eagerly looking forward to know what this year is beholding in his hands. As per vedic astrology, we will try to throw some light on the possibilities career, education, marriage, love, health, job, finance etc for the natives of Scorpio Ascendant / Vrishchik Lagna  in natal chart/ rashi chart) through the transit of major planets taking place in year 2019.
Though these predictions are generalized and made for all the nativities falling under the specific ascendant/lagna. Readers must always bear in mind that these predictions are common to all and may vary on the basis of other peculiarities of an individual's horoscope. But it is very sure that the pointed areas will be receiving favors or adversities, intensity may be varying depending upon individual's horoscope.
Scorpio Ascendant 2019
For Scorpio ascendant people major transiting planets Saturn, Jupiter, Rahu-Ketu will be passing through the 2nd,1st , 9-3  houses respectively wherein Rahu-Ketu will change their axis from 9-3 to 8-2 from 7th March 2019 onwards till the end.
According to Scorpio ascendant/lagna horoscope 2019, this year is going to be good from personal and personality point of view. Those who were having any health related issues or any troubling ailment in last year that all will be cured and native will be keeping good physical and mental health most of the year.
Transiting Jupiter passing over ascendant will fill the native with positivity and he/she will be feeling much optimistic this year. Native will be devoting his/her time into personal care and improving appearance of self which he/she may be ignoring or unable to take care last year.
Jupiter being transiting through lagna enhances fortune of the native, plenty of new ideas and plans will come into existence this year. If natal chart is also supporting the native then marriage can also happen, work will be accomplished with least hurdles and wish fulfillment will also be felt this year.
As per Scorpio ascendant/lagna horoscope 2019, this year till March, native will be having increased income and earnings from the profession or even from other sources as well.
Native can have strained relations with the family members after March hence don not jump into any kind of trivial discussions and agendas where difference of opinion is strong.
This year there will be change in the way the native use to communicate  with the friends, family and acquaintances , this will also be felt in business and professional as well.
This year native can develop or new source of income can be added to the earning, possibility will be there all along year but most significantly it will be felt before March after March it will be marked with struggles or hurdles.
According Scorpio ascendant/lagna horoscope 2019, this Year native can have to take loan or borrow money on account of sudden expenses or expenditures which will happen after March.
Possibility sexual union with other people apart from spouse will be there, it is especially for those who are close to 36 yrs. of age.  There are higher chances that any elderly member in the family may suffer due to any health issues suddenly and if not addressed timely then it can also prove to be fatal.
This year native may feel inclined towards research oriented works, secretive works etc. also native will be having inclination towards occult, astrology, tantra etc. but beware of the crooks and thugs of that areas as chances are also that native may become victim of such weird commercial people.
Native may have apprehensions related to health or for anything bad in future due to which native will be security seeking and will not be able to perform any work confidently.
As per Scorpio ascendant/lagna horoscope 2019, before March there will be instances when native will have clashes with mentors, boss, father etc. Students may not have good relations with teachers and father, there will be instances when native can act against tradition and religion, may have reduced faith in own religion.
Native will be having some unorthodox view about spirituality, religion which will appear to be rebellious to near and dears. These tendencies will be mostly prevailing till first half of the year.
BOOK YOUR HOROSCOPE CONSULTATION
Iti Shubham
Namo Narayan