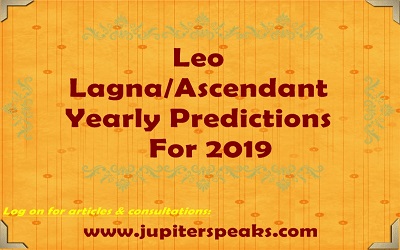 Leo Ascendant 2019 Horoscope Predictions
Leo Ascendant 2019 Predictions –  As the Year 2019 knocks the door Leo Ascendant / rising signs males and females  eagerly looking forward to know what this year is beholding in his hands. As per vedic astrology, we will try to throw some light on the possibilities career, education, marriage, love, health, job, finance etc for the natives of Leo Ascendant / Simha Lagna  in natal chart/ rashi chart) through the transit of major planets taking place in year 2019.
Though these predictions are generalized and made for all the nativities falling under the specific ascendant/lagna. Readers must always bear in mind that these predictions are common to all and may vary on the basis of other peculiarities of an individual's horoscope. But it is very sure that the pointed areas will be receiving favors or adversities, intensity may be varying depending upon individual's horoscope.
Leo Ascendant 2019
For Leo ascendant people major transiting planets Saturn, Jupiter, Rahu-Ketu will be passing through the 5th, 4th, 12-6 houses respectively wherein Rahu-Ketu will change their axis from 11-5 from 7th March 2019 onwards till the end.
According to Leo Lagna horoscope 2019, this year is going to be much favorable for the leo ascendant males and females in terms of acquiring landed properties or obtaining immovable assets.
During this year renovation or maintenance of home will be done, there will be change in the interior decoration of the house or something like that will happen which will be giving the home of the native a new look.
There will be sale and purchase of the new vehicle, luxury items of home décor will be purchased in this year. Apart from material point of view native will be also successful in spiritual context also, more charity, good deeds, helping the needy, social service will be done by the native.
As per Leo ascendant 2019 horoscope, this year will be much fruitful from the children or progeny point of view for females. Couples who are planning for the child birth this year before March is going to be excellent.
Children of the native of Leo will be winning accolades and appreciations this year, they will be performing well in their studies.
Apart from studies they will also taking up extra-curricular activities, hobbies, dance, drama, creative activities of any sort in fine manner.
After March, there will be some issues for the natives who are going for the baby planning or expecting child birth, C-sections can be faced by the female native if they are going to deliver after March.
Overall as per Leo rising sign horoscope 2019, after March there can be some difficulties in the area of Career promotions but certainly career enhancement will be there, more responsibilities will be carried by you in job. This year native is also going to visit shrine, holy places, pilgrimages etc.
Starting of this year is capable to bring raised expenditures and unwanted losses as well on account of anything in family or health but this year is also going to bring foreign visits to the native or any how connections with the foreign land.
Initially till March ay sleep related issues or anxiety can be experienced by the native. After March, there can be chances that native may involve in Nefarious activities which may be illegal or against laws, rules and regulations.
It will be due to elevated tendency for desire fulfillment somehow, native may not refrain from obtaining money from bad means or ways during this year. Native will be experiencing raised ego and much feeling of "I" this year.
As per Leo ascendant 2019 horoscope, this likely that unwanted or illicit relationship can also be established by the native if natal horoscope also support through dasha. No doubt gains of the native will be increased this year but at the same time he/she may come into contact or mingle with bad peoples for the fructification of wishes and desires.
Native can have trouble relationship with elder siblings or paternal uncles.
BOOK YOUR HOROSCOPE CONSULTATION
Iti Shubham
Namo Narayan