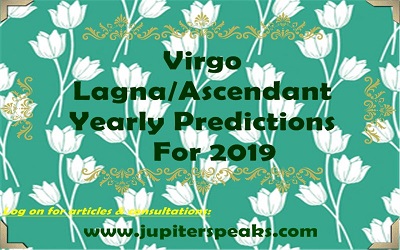 Virgo Ascendant 2019 Males & Females Horoscope Predictions
Virgo Ascendant 2019 Predictions –  As the Year 2019 knocks the door Virgo Ascendant / rising signs males and females  eagerly looking forward to know what this year is beholding in his hands. As per vedic astrology, we will try to throw some light on the possibilities career, education, marriage, love, health, job, finance etc for the natives of Virgo Ascendant / Kanya Lagna  in natal chart/ rashi chart) through the transit of major planets taking place in year 2019.
Though these predictions are generalized and made for all the nativities falling under the specific ascendant/lagna. Readers must always bear in mind that these predictions are common to all and may vary on the basis of other peculiarities of an individual's horoscope. But it is very sure that the pointed areas will be receiving favors or adversities, intensity may be varying depending upon individual's horoscope.
Virgo Ascendant 2019
For Virgo ascendant people major transiting planets Saturn, Jupiter, Rahu-Ketu will be passing through the 4th, 3rd, 11-5 houses respectively wherein Rahu-Ketu will change their axis to 10-4 from 7th March 2019 onwards till the end.
According to Virgo lagna horoscope 2019, this year is going to be much favorable for the Virgo ascendant natives in terms of acquiring landed properties or obtaining immovable assets, matters related to vehicles, change of residence , change of office, change of premise for business persons .
During this year renovation or maintenance of home will be done, there will be change in the interior decoration of the house or something like that will happen which will be giving the home of the native a new look.
It is possible that native may shift into new home this year. Much felicitation in terms of home or vehicle is been awarded by employer this year. Sale and purchase of the new vehicle will be done, luxury items of home décor will be purchased in this year.
Apart from material point of view both man and woman will be also successful in spiritual context also, more charity, good deeds, helping the needy, social service will be done by the native. Native will be having decent and enhanced understanding and bonding with the younger siblings.
Those natives who are in the field of arts, crafts, music, performing arts will be having good time this year.
As per Virgo rising sign 2019, this year is going to bring travel that will be mostly short distance and will be in nearby places. These journeys can be on account of leisure trip or visiting holy places, holy dips into sacred rivers, shrine etc.
All journeys taken this year will be mostly fortunate and trouble as well. This year native is also going to purchase latest electronic or communication devices which will mostly be mobile, laptop computers, etc.
According to Virgo Ascendant  2019, this year is not supposed to be good from the career, business prospective. Likely to feel misunderstanding or conflicts with the superiors, bosses and hence enhanced stress in work area will be felt.
Those who are into business they may be having troubled investments or if natal chart is also supporting then losses can also be seen.
This will be felt mostly after March. Service men will be facing delay or obstruction in getting promotions or upgradation, they will feel a kind of mess, delusion in the work place which will shifting their focus from work to non-essential matters.
In worst case scenario, natives those are into job/service will be compelled or out of aggression they will be resigning or take break from job. Hence they should not over-react into any matters concerning job and keep your cool else may have to face undue consequences.
As per vedic astrology for Virgo Ascendant 2019, before March this year, both males and females may be involved or feel tempted  towards illegal money making, native may also trapped into unwanted or illicit love affair which will spoil his/her social image.
After March give special to mother's health as she may have any health issues, any unwanted issue may spoil environment at home leading towards bickering, conflicts.
We suggest these native to sincerely pray Lord Ganesh and Lord Shiva for overall safety and well being.
BOOK YOUR HOROSCOPE CONSULTATION
Iti Shubham
Namo Narayan