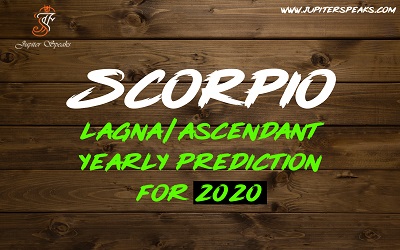 Scorpio Ascendant 2020 Horoscope Predictions
Scorpio Ascendant 2020 Predictions – With the onset of year 2020, every individual is fond of looking forward to know what this year hold for them in career, marriage, finance, health, love, business etc. As per Vedic astrology, we will try to predict for the in general in major areas of life for the natives of Scorpio Ascendant / Vrischik Lagna in natal chart/ rashi chart in horoscope through the transit of major planets taking place in year 2020.
Though these predictions are generalized and made for all the man and the woman falling under the specific ascendant / lagna. Readers must always bear in mind that these predictions are common to all and may vary on the basis of other peculiarities of an individual's horoscope. But it is very sure that the pointed areas will be receiving favors or adversities, intensity may be varying depending upon individual's horoscope.
Scorpio Ascendant 2020
According to Scorpio ascendant horoscope 2020, this year is going to be good from personal and personality point of view. Natives will be having change in habits in terms of food which if they were consciously-unconsciously not able to focus in previous year this year it will improve for the good.
It is highly likely that Scorpio people will become weight conscious and may be hitting gymnasium, joining yoga classes or starting exercising, somehow trying to balance weight and keeping them shape and size to proportional.
They will be fighting against bad habits or atleast giving a try to leave or reduce if they were in any abuse such as alcohol, smoking, chewing tobacco etc. It will adversely affect health of individuals.
Scorpio lagna man and woman will be developing positive speech and optimistic approach towards life and hence the Scorpian rising native will cultivate peaceful, harmonious and pleasant communication with the family members and with near and dear ones.
It quite likely that during this year native will feel as if luck is manifesting or supporting by way of coincidences. Native will find that new ideas and approaches are striking in his/her to solve any nagging problem and thus feel happy and satisfied the way things are going.
Read More:-  Virgo Ascendant 2020 Horoscope Predictions
Scorpio ascendant natives in 2020 can have inclined/developed interest in para vidya, occult sciences etc. but be very careful when it comes to black magic or any such destructive means and modes. You are likely to become victim when you will try to meddle with it hence keep distance while dealing with people even who are into such activities.
Students are likely to have poor performance in exams or academics wherein professional may be feeling that they performance is lagging or going down in his Career or profession. Scorpio ascendant natives should take utmost care of elderly members of the family as though likely that they can face can any fatal situation.
In wealth and finance matter, there will be sudden rise in expenses and in worst condition can even lead to debts during year 2020. There may be at times occasion when native would be feeling loss of hope, confidence and fear and will have some last-minute rescue to cope up or save situations.
Read More:-  Sagittarius Ascendant 2020 Horoscope Predictions
Scorpio ascendant may have increased short distance travels in this year 2020. There can be marriage of sibling in the family or even they would be doing great in their career endeavors thus in overall sense they will be enjoying all together.
Those Scorpio man and woman  who are into music or entertainment industry they will be doing good however those who are into communication and computer industry they too will be doing better in their endeavors but those who are into travelling job they will be facing hectic schedules and many may be travelling abroad on short trips or vacations in this year 2020.
BOOK YOUR HOROSCOPE CONSULTATION
Iti Shubham
Namo Narayan