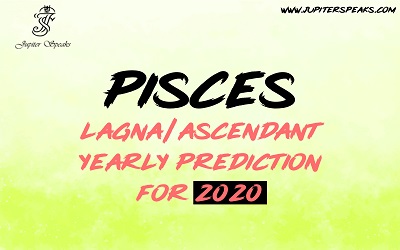 Pisces Ascendant 2020 Horoscope Predictions
Vedic astrology Pisces ascendant 2020 horoscope predictions –  with the onset of year 2020, every males and females is looking forward to know what this year hold for them in career, marriage, finance, health, love, business etc. Here, we will try to predict for the in general in major areas of life for the natives of Pisces Ascendant in natal chart/ Meena Lagna in rashi chart in horoscope through the transit of major planets taking place in year 2020.
Though these predictions are generalized and made for all the man and the woman falling under the specific Pisces as rising sign in horoscope. Readers must always bear in mind that these predictions are common to all and may vary on the basis of other peculiarities of an individual's horoscope. But it is very sure that the pointed areas will be receiving favors or adversities, intensity may be varying depending upon individual's horoscope.
Pisces Ascendant 2020
According to Pisces ascendant/ lagna horoscope 2020 prediction's, this year Jupiter is going to bless you with good career prospects or atleast good working environment. Work will give joy and peace to you and moreover workplace will be having more positivity then before and much relief from negativity point of view in profession will be there.
Basically, Man and woman with Pisces ascendant will enjoy his/her work and will try to give max of efforts to get max output of potential. Superior and subordinates will be supporting and extending favor to enhance career. Career will be upgraded as per transit if native too have promise in natal chart then for sure.
Will experience good workable environment at office, not much interference or obstruction will be felt this year in comparison to previous year. All old problems will be resolved or will be having win-win solution to the native.
This year 2020 is capable to give sudden upliftment in career/profession also position of Ketu is indeed capable to give break with enhanced or change of career profile/domain or responsibilities.
Read More:-  Aquarius Ascendant 2020 Horoscope Predictions
This year is going to be very positive especially for Pisces native if support from natal chart is also there. There will be increased gains with more flow of wealth than previous year, wish fulfillment, gains from the profession and promotions, business men will be having good opportunity for expansion and may have new contracts and contacts which will be helpful in promoting business endeavors.
Native will experience reunion with old friends and he/she will be interested in alumni kind of activity of colleges, institutions etc.
Nonetheless, Pisces rising individuals will feel lack of peace. Problem with the vehicles or property can be seen, refrain from sale and purchase of property especially in finance and money matters. Native should drive carefully and refrain from over speeding, drunk driving etc. Take care of your vehicle's safety as chances of getting lost or theft is also there.
Pisces ascendant males and females in business and sales areas will find increase in sales volume or supply or demand of products the native deals with.
Year 2020 is even capable to bring accolades, awards or prizes to the Pisces rising sign / lagna born people who are working in that area. Person  will be socially respected with increased public contact and circle.
Pisces ascendant man and woman need to take care of health of both of your parents as chances of trouble to them will be there hence do not overlook any related issues to them and get treated immediately. There can be feeling of pessimism arising in the native.
Read More:-  Capricorn Ascendant 2020 Horoscope Predictions
Pisces lagna born native in 2020 can feel troubled or feel the place of residence or home to be gloomy and somehow uncomfortable hence will be inclined to spend more time outside home. A strong urge to change residing or dwelling place with no reason will be seen this year.
Above prediction are very general in nature, to know specific about yourself whats's new for you in 2020 how it will be beneficial for you. Know do's and don'ts in life ahead…
BOOK YOUR HOROSCOPE CONSULTATION
Iti Shubham
Namo Narayan