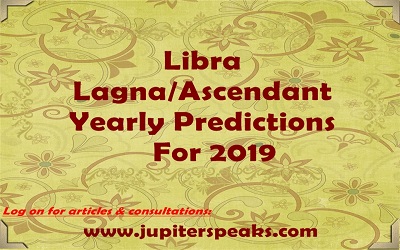 Libra Ascendant 2019 Horoscope Predictions
Libra Ascendant 2019 Predictions –  As the Year 2019 knocks the door Libra ascendant / rising signs males and females  eagerly looking forward to know what this year is beholding in his hands. As per vedic astrology, we will try to throw some light on the possibilities career, education, marriage, love, health, job, finance etc for the natives of Libra Ascendant / Tula Lagna  in natal chart/ rashi chart) through the transit of major planets taking place in year 2019.
Though these predictions are generalized and made for all the nativities falling under the specific ascendant/lagna. Readers must always bear in mind that these predictions are common to all and may vary on the basis of other peculiarities of an individual's horoscope. But it is very sure that the pointed areas will be receiving favors or adversities, intensity may be varying depending upon individual's horoscope.
Libra Ascendant 2019
For Libra ascendant people major transiting planets Saturn, Jupiter, Rahu-Ketu will be passing through the 3th, 2nd, 10-4  houses respectively wherein Rahu-Ketu will change their axis from 10-4 to 9-3 from 7th March 2019 onwards till the end.
According to Libra ascendant 2019 horoscope , this year is going to be good from the family and wealth point of view. Man and woman with Libra ascendant will be having good return on investment he/she going to make this year, there will be addition or increase in family members meaning ether there can be child birth or marriage will happen.
Man and woman with Libra ascendant / rising sign  will experience countable increase in the deposited or saved money in banks, there will be purchase of gold, silver, gems and jewelry this year. Native will be tasting delicacies and refreshing taste buds with foods of his/her choice this year which will be causing weight gain to the native.
However person will also become health and diet cautious as well. For those who are into speaking profession or where speech is used, they will be having good and merry time. Good mutual understanding and bonding with the family members will be felt.
As per Tula Lagna horoscope 2019, during this year man and woman will be having more short distance travels, those who are into sale and marketing or where frequent travels are required, they will be having  wearisome & hectic schedule.
This year can bring weddings bells to the younger siblings and they will be doing well in there endeavors. Those who are into singing, writing, poets, communications industries, mobile, computer etc. will be doing well in their respective shows.
However this year is going to bring changes in the career of their Libra ascendant people whether it will be positive or negative that will depend on the individual's horoscope. Travel enthusiasts and adventure lovers will be having good time.
As per Libra Rising horoscope 2019, this year is going to bring struggles in the work area, there can be adverse politics, back biting or back stabbing in the work place, troubles with the bosses, superiors etc.
Promotions may get delayed or even stuck, business men may not be enjoying their show before March, there will be hurdles or sudden troubles which can lead to losses even hence do not indulge into any risky or unsure affairs.
For all Libra males and females before March there can be sudden troubles in their respective professions but after March everything start to act smoothly and favorably. Hence they are advised to keep calm and cool, do not over-react and take immediate action on any situation.
Avoid going on long distance travel till March as it may prove to be problematic.
According to Libra ascendant 2019 horoscope,after March, native can have reduced faith in god and religion, he/she may act in rebellious manner towards traditions. Native will be having thinking in other ways about religious believes and culture etc.
There are higher chances that after March father, fatherly figure of the native may have any kind of health issues which can turn to be worst if not addressed immediately.
Also health issues with younger sibling can popup after March. Hands, shoulders and respiratory system is most prone to suffer this year. Also native may feel as of low in courage and efforts this year.
BOOK YOUR HOROSCOPE CONSULTATION
Iti Shubham
Namo Narayan