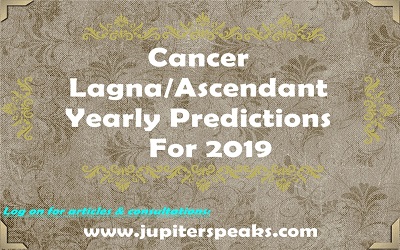 Cancer Ascendant 2019 Males & Females Horoscope Predictions
Cancer Ascendant 2019 Predictions –  As the Year 2019 knocks the door Cancer Ascendant / rising signs males and females  eagerly looking forward to know what this year is beholding in his hands. As per vedic astrology, we will try to throw some light on the possibilities career, education, marriage, love, health, job, finance etc for the natives of Cancer Ascendant / Karka Lagna  in natal chart/ rashi chart) through the transit of major planets taking place in year 2019.
Though these predictions are generalized and made for all the nativities falling under the specific ascendant / lagna. Readers must always bear in mind that these predictions are common to all and may vary on the basis of other peculiarities of an individual's horoscope. But it is very sure that the pointed areas will be receiving favors or adversities, intensity may be varying depending upon individual's horoscope.
Cancer Ascendant 2019
For Cancer ascendant people major transiting planets Saturn, Jupiter, Rahu-Ketu will be passing through the 6th, 5th, 1-7 houses respectively wherein Rahu-Ketu will change their axis from 12-6 from 7th March 2019 onwards till the end.
According to Cancer ascendant / lagna horoscope 2019, this year is going to be good from the spiritual and self-development point of view as Jupiter is passing through the positive trine house which is called as supporting house for the ascendant.
Since 5th house is also house of love, emotions and educations along with other signification such as children, mantra saadhna, gains from public etc.
Thus this year males and females will be having interest and inclination towards reading good books, scriptures and also chanting mantras. Good thing is that it will keep on growing once started or native starts taking interest into it.
Change in attitude from negative to positive will be seen, emotionally native will become stronger and will certainly develop tendency of forgiveness within self.
Cancer rising sign person will be contemplating over new paths, ideas and will be planning to move ahead on that plan & strategies. Especially students will be having strong focus and they will better in their extracurricular activities.
As per Cancer ascendant 2019 horoscope, Cancer ascendant people searching for love or companion may have good news this year, as those love interest can also be converted into permanent bond of marriage as well. Also friends and colleagues can become source of happiness for the native.
Reunion with friends after long can happen this year. This year friendships will be changed and there can be new partnership or friendship happening which will be sudden and unexpected as well.
For Cancer Rising Sign native this year  will be also facing opposition from enemies, increase in enemies can be realized and enemies will be growing stronger in comparison to previous year. From health point of view this year cannot be called so favorable as the transit of Saturn can give sickness to the native as that will mostly related to stomach, intestine and bones.
If the native is already suffering from any disease then it can become more troublesome and in worst surgical intervention for the treatment of the disease can happen. Sincere prayer to lord Shiva, Lord Shani to be done this year.
As per Cancer ascendant / lagna horoscope 2019, native will not be enjoying much in their job/service area as native can have to face untoward situations in employment, troubles through the worker, subordinates will be felt.
Business men will also not be having good time this year, refrain from any kind of fresh investment this year as highly likely that Cancer ascendant natives may have to take loans or borrow money in order to meet expenses.
Natives those who are into litigations of any sort may not have good year. After March, conflicts with family members or elderly ones can be seen thus stay cautious. This year is also bringing obstructions, delays or hurdles in accomplishing any work.
In Cancer ascendant 2019 prediction , before March 2019, girls & boys will be having ambiguity in mind lack of self-confidence, trouble in taking initiative or calculated risks. Native will not be able to give 100% of its potential in any work and will feel peevish.
Frequent mood swings and lack of interest in anything will be felt. Relationships will be be trouble or split with loved can happen before March. Thus, take care of your mental wellbeing.
But after March there some sigh of relief will be there for Karka lagna peoples, those who are interested in going abroad or foreign land they will be finding opportunities at the same time more expenditures on account of health or family will be seen.
Males & Females who are running under bad dasha will be feeling difficulty in falling asleep, anxiety, bad dreams etc. which can cause unrest.
After March native should summarily avoid any kind of intoxication or falling prey of any bad habits as health will be on stake. Sincere worship of lord Shiva and Lord Shani is suggested.
BOOK YOUR HOROSCOPE CONSULTATION
Iti Shubham
Namo Narayan