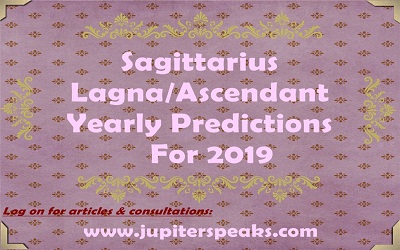 Sagittarius Ascendant 2019 Horoscope Predictions
Sagittarius Ascendant 2019 Predictions –  As the Year 2019 knocks the door Sagittarius ascendant / rising signs males and females are enthralled to know what the upcoming year is bestow upon, what changes, what embellishments, transformations and makeover this year is going to bring for us? Everyone is eagerly looking forward to know what this year is beholding in his hands. As per vedic astrology, we will try to throw some light on the possibilities for the natives of Sagittarius Ascendant / Dhanu Lagna (Rising sign in natal chart/ rashi chart) through the transit of major planets taking place in this year.
Though these predictions are generalized and made for all the nativities falling under the specific ascendant/lagna. Readers must always bear in mind that these predictions are common to all and may vary on the basis of other peculiarities of an individual's horoscope. But it is very sure that the pointed areas will be receiving favors or adversities, intensity may be varying depending upon individual's horoscope.
Sagittarius Ascendant 2019
For Sagittarius ascendant people major transiting planets Saturn, Jupiter, Rahu-Ketu will be passing through the 1st, 12th ,8-2  houses respectively wherein Rahu-Ketu will change their axis from 8-2 to 7-1 from 7th March 2019 onwards till the end.
According to Sagittarius ascendant 2019, this year before March, is going to be good from personal and personality point of view. Native may change to new place or may change his/her house or can move to new house.
Boys & Girls with Sagittarius ascendant will be finding new job opportunities for job or a job change. Up till March those who are unmarried and waiting for the life partner then there can be either fixation of marriage or shortlisting of partner can happen.
Sagittarius rising born man and woman would have been feeling lack of confidence, sudden turmoil of plans, debts and unwanted sudden expenses will feel much relief after March, sources of income will be strengthened and refreshed this year.
Those students who were feeling down side in previous year will be doing well this year. As per Sagittarius ascendant 2019 horoscope , those who are having any kind of surgery or operations this year they will be having success and quick recovery will  be felt to the native.
Native will be very careful and watchful about his/her expenses, they will be counting money twice before spending this year. Native will find interest in searching inner self, meditations, spirituality.
Male and females will also partake religious tours and travels, visiting ashrams, charity or better say soul oriented activities. Those Sagittarius natives who are into share market or in business where uncertainty is marked, they should not take any hasty decisions this year.
According Sagittarius ascendant 2019 horoscope , as Soon as Saturn will get conjunct with Ketu and Rahu will move to 7th house after March then for those who are married can have tough time especially to those who are already having troubled relation they can face divorce, separation on account of misunderstanding or with other partner coming into the picture.
Since Rahu being travelling to 7th house of relationship and Ketu to Lagna with Saturn thus highly likely that native will be feeling confused of sometimes headless, native will be prone to take indecent inappropriate decision which could trouble him in near future.
Love birds those who are either into relationship or will enter into relationship after March take attention of the partner as higher chances of getting betrayed or cheating is there, partner may appear to be innocent or decent outside but may be fraudulent and liar from inside. Thus, be cautious and alert don't be so moved by emotions rather use your brain and instinct to avoid any awkward situation.
According Sagittarius Lagna horoscope 2019,those natives who are into partnership business will be facing trouble after March mostly. Before entering into any deal or contract thoroughly go through the documents etc.
Relationship with spouse & health is as told should have to be given priority this year, spouse's family may also suffer and face various sorts of challenges this year.
This year many planned or unplanned journeys will be either cancelled or postponed in the last hour or moment due to unforeseen circumstances. Travel can prove to be troublesome and even can attract losses.
BOOK YOUR HOROSCOPE CONSULTATION
Iti Shubham
Namo Narayan