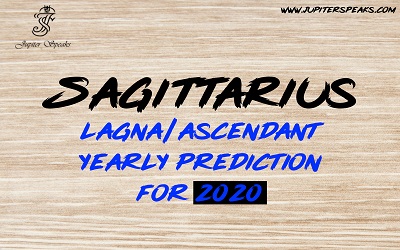 Sagittarius Ascendant 2020 Horoscope Predictions
Sagittarius Ascendant 2020 Predictions –  with the onset of year 2020, every males and females is looking forward to know what this year hold for them in career, marriage, finance, health, love, business etc. As per Vedic astrology, we will try to predict for the in general in major areas of life for the natives of Sagittarius Ascendant / Dhanu Lagna in natal chart/ rashi chart in horoscope through the transit of major planets taking place in year 2020.
Though these predictions are generalized and made for all the man and the woman falling under the specific ascendant / lagna. Readers must always bear in mind that these predictions are common to all and may vary on the basis of other peculiarities of an individual's horoscope. But it is very sure that the pointed areas will be receiving favors or adversities, intensity may be varying depending upon individual's horoscope.
Sagittarius Ascendant 2020
According to Sagittarius ascendant/lagna horoscope 2020, this year is going to be good from personal and personality point of view. Those who were having any health-related issues or any troubling ailment in last year that all will be cured and native will be keeping good physical and mental health most of the year.
Transiting Jupiter passing over ascendant will fill the native with positivity and he/she will be feeling much optimistic this year. Native will be devoting his/her time into personal care and improving appearance of self which he/she may be ignoring or unable to take care last year.
Jupiter being transiting through lagna enhances fortune of the native, plenty of new ideas and plans will come into existence this year. If natal chart is also supporting the native then marriage can also happen, work will be accomplished with least hurdles and wish fulfillment will also be felt this year.
Read More:-  Libra Ascendant 2020 Horoscope Predictions
This year 2020, Sagittarius ascendant males and females will experience change in the way the native use to communicate with the friends, close family and acquaintances, this will also be felt in business and professional paradigm as well. This year Sagittarius natives can develop new source of income and can be added to the earning, possibility will be there all along year or even later. There will be significant shuffling reshuffling in the priorities of life this year.
Nonetheless, this year 2020 can be bit painful for the Sagittarius rising married couples wherein some misunderstanding or frequent conflicts on account of trivialities will be seen.
There will be several occasions when couples can feel skeptical behavior of spouse, misunderstandings aggravating, suspicion of infidelity etc. can also be develop in spouse's mind of Sagittarius natives provided dasha and yogas are also present.
But for those Sagittarius rising sign man and woman whose married life is already troubled or running under miseries then this year mostly till September can be very problematic, in worst case separation or divorce can happen. Those who are into love affair or into any romantic relation can be cheated or betrayed hence be very cautious. There could be sorrow or losses or problems in the spouse's family of Sagittarius people.
Read More:-  Leo Ascendant 2020 Horoscope Predictions
This year can also be called not so promising for those who are into business and partnership deals perhaps there can be occasion which could lead to break of partnership as the Sagittarius native could be acting in headless manner or should say thoughtlessly due to vested interest. Sudden change in attitude and even travel plans will be either cancelled or rescheduled at the last moment.
BOOK YOUR HOROSCOPE CONSULTATION
Iti Shubham
Namo Narayan