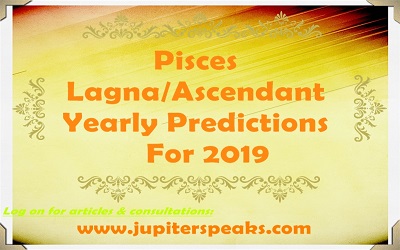 Pisces Ascendant 2019 Horoscope Predictions
Pisces Ascendant 2019 Predictions –  As the Year 2019 knocks the door Pisces ascendant / rising signs males and females are enthralled to know what the upcoming year is bestow upon, what changes, what embellishments, transformations and makeover this year is going to bring for us? Everyone is eagerly looking forward to know what this year is beholding in his hands.
As per vedic astrology, we will try to throw some light on the possibilities for the natives of Pisces Ascendant /Meena Lagna (Rising sign in natal chart/ rashi chart) through the transit of major planets taking place in this year.
Though these predictions are generalized and made for all the nativities falling under the specific ascendant/lagna. Readers must always bear in mind that these predictions are common to all and may vary on the basis of other peculiarities of an individual's horoscope. But it is very sure that the pointed areas will be receiving favors or adversities, intensity may be varying depending upon individual's horoscope.
Pisces Ascendant 2019
For Pisces ascendant /rising people major transiting planets Saturn, Jupiter, Rahu-Ketu will be passing through the 10th, 9th, 5-11 houses respectively wherein Rahu-Ketu will change their axis from 5-11 to 4-10 from 7th March 2019 onwards till the end.
According to Pisces ascendant/ horoscope 2019, this year is going to be very positive especially from fathers perspective, natives those who are having strained relation with father this year it will be smoothened and mutual tendency of help and affection will be marked. Moreover apart from father, with other elderly members, mentors, guru etc.
Males and females will be having improved and good relation he/she will be enjoying along with more blessings. Native will be more inclined and will find occasions whereby he/she can attract towards religions, spirituality etc.
As per vedic texts, those who are searching for the Guru or for someone who can show them divine path of spirituality, religion will come in contact with them. It is also highly likely that native with Pisces ascendant is going to visit shrines, holy places, holy dip in rivers this year.
Basically this year is going to fill Pisces rising with enthusiasm for non-tangible experiences which is divine and at soul's level. Spouse's siblings will also be doing well this year. In many cases child birth are also witnessed during this transit.
According to Pisces ascendant horoscope 2019, this year native will be seeking changes in career, he/she will be having strong urge to change from the current status in career and hence if native is going to search for it then surely he/she is going to find positive results in career.
To those who are not willing to change but still they will experience change in department, role, function etc. However whatever the change is going to come it will all be accompanied with higher responsibilities and broader job area.
Though this transit is also capable to bring monetary gains from career/profession to the native along with promotion, upgradation as well. Government sector employees will not have much changes but private sector native will definitely enjoy the change. Changes if occurring after March can even involve suddenness and struggles as well, may be native have to make more attempts to get succeed.
As per Pisces ascendant horoscope 2019, apart from the above said natives who are planning for the baby, they should avoid till March after that things will become favorable. This is also applicable to those who are expecting child birth before March they should take extra cautions and be very careful in terms of any complications. However those are willing to adopt child they can go for it and will find success thereby before March.
Students will be having good time after March before that they will be having disturbed concentration and focus, mind will be wandering  here and there, may have love interest developed. After March native will be having enhanced luck and favor. But one thing that native with Pisces ascendant that they will be having troubled peace of mind this year.
As per Pisces ascendant horoscope 2019, native should take extra care while driving vehicle as there are chances that native may undergo any kind of trouble where vehicles will be involved. Thus native should have to be alert and cautious in this area. Native with Pisces risingt should avoid sale and purchase of vehicle this year as it can be stolen or lost somehow.
Man and woman will be having change of place or residence this year and it will be suddenly and without any planning. Native should also take care of their property and house as well. Leakage or any kind of damage to the roof of the house is mostly like occur this year.
Pisces rising person should take extra care about their father and mother this year as they are most prone to suffer in terms of health. Native should try to cultivate optimism within self if any negative event or lack of peace in mind is felt as otherwise it may lead to depression as well. Physically native will not be so vulnerable but yes mentally he/she can suffer on account of anything.
BOOK YOUR HOROSCOPE CONSULTATION
Iti Shubham
Namo Narayan