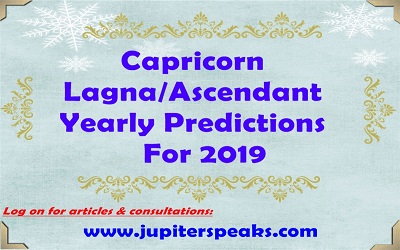 Capricorn Ascendant 2019 Horoscope Predictions
Capricorn Ascendant 2019 Predictions –  As the Year 2019 knocks the door Capricorn ascendant / rising signs males and females are enthralled to know what the upcoming year is bestow upon, what changes, what embellishments, transformations and makeover this year is going to bring for us? Everyone is eagerly looking forward to know what this year is beholding in his hands. As per vedic astrology, we will try to throw some light on the possibilities for the natives of Capricorn Ascendant / Makara Lagna (Rising sign in natal chart/ rashi chart) through the transit of major planets taking place in this year.
Though these predictions are generalized and made for all the nativities falling under the specific ascendant/lagna. Readers must always bear in mind that these predictions are common to all and may vary on the basis of other peculiarities of an individual's horoscope. But it is very sure that the pointed areas will be receiving favors or adversities, intensity may be varying depending upon individual's horoscope.
Capricorn Ascendant 2019
For Capricorn ascendant people major transiting planets Saturn, Jupiter, Rahu-Ketu will be passing through the 12th, 11th, 7-1 houses respectively wherein Rahu-Ketu will change their axis from 7-1 to 6-12 from 7th March 2019 onwards till the end.
According to Capricorn ascendant 2019 horoscope, this year after March,  those who are undergoing matrimonial disharmony since last year will be having much relief , married couples those who are on verge of separation or split should wait till March, things will turn up positively for you.
Since Rahu being travelling to 7th house of relationship and Ketu to lagna which made you confused and exaggerated or many times headless till now will give you direction and optimistic thought process after March , thus do not indulge into any kind of indecent inappropriate decision making.
Love birds those who are having bad time last year will be enjoying good time this year  but still before March take attention of the partner as higher chances of getting betrayed or cheating is there, partner may appear to be innocent or decent outside but may be fraudulent and liar from inside.
Thus, be cautious and alert don't be so moved by emotions rather use your brain and instinct to avoid any awkward situation. After March things will improve considerably and turn up positively for you.
According to Capricorn lagna horoscope 2019, Ample of gains native of Capricorn lagna can expect this year, increased salary or perks can be expected this year, native may also enjoy enhanced status, can even win awards ,accolades if at all pursuing in those areas.
New friends and acquaintances will be made and thereby increase in social circles. In this period of one year native can go and meet old friends who are not in touch since long.
All in all this year will be good indeed for the business men as well, they will certainly expand their show, explore the unexplored areas of profession. However business community can find difficulty in the flow or circulation of the money.
Native will be thinking tactically and logically to set strategies to deal with the matters which are pending since long and will be finding win-win situation.
As per Capricorn Rising Sign Horoscope 2019, apart from the above said native will also have to bear increased and sudden expenses from the month of March onwards. Native can experience much interference and many a times clashes from the boss or superiors.
Since Saturn represents service class or subordinate people hence those who are assisting and under direct monitoring of superiors they will be finding difficulty mostly but those who are at top they may have increased responsibilities and highly likely that any decision can bring loss to them or company.
After March it may happen suddenly or even before that Capricorn ascendant people may have to change residence or work place due to any reason which may or may not be favorable. Students those who are studying and preparing for competition they will have to push themselves a harder to gain results however it may not be appearing to their wish.
We suggest for the Capricorn ascendant people that they should worship Lord Shiva and worship peepal tree sincerely all along this year.
BOOK YOUR HOROSCOPE CONSULTATION
Iti Shubham
Namo Narayan