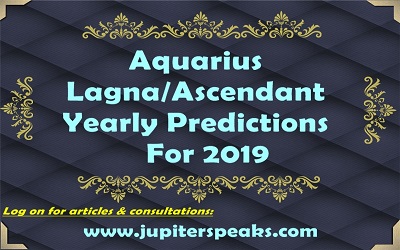 Aquarius Ascendant 2019 Horoscope Predictions
Aquarius Ascendant 2019 Predictions –  As the Year 2019 knocks the door Aquarius ascendant / rising signs males and females are enthralled to know what the upcoming year is bestow upon, what changes, what embellishments, transformations and makeover this year is going to bring for us? Everyone is eagerly looking forward to know what this year is beholding in his hands. As per vedic astrology, we will try to throw some light on the possibilities for the natives of Aquarius Ascendant / Kumbha Lagna (Rising sign in natal chart/ rashi chart) through the transit of major planets taking place in this year.
Though these predictions are generalized and made for all the nativities falling under the specific ascendant/lagna. Readers must always bear in mind that these predictions are common to all and may vary on the basis of other peculiarities of an individual's horoscope. But it is very sure that the pointed areas will be receiving favors or adversities, intensity may be varying depending upon individual's horoscope.
Aquarius Ascendant 2019
For Aquarius ascendant people major transiting planets Saturn, Jupiter, Rahu-Ketu will be passing through the 11th, 10th, 6-12 houses respectively wherein Rahu-Ketu will change their axis from 6-12 to 3-11 from 7th March 2019 onwards till the end.
According to Aquarius ascendant  2019 horoscope, this year is going to be very positive especially before March there will be increased gains, wish fulfillment, gains from the profession and promotions, business men will be having good opportunity for expansion and may have new contracts and contacts which will be helpful in promoting business endeavors.
This year males and females will experience reunion with old friends and he/she will be interested in alumni kind of activity of colleges, institutions etc. Before March native will be experiencing success in most of his/her endeavors but after March when Saturn will conjunct Ketu then they could experience some problems and struggles in gains they are expecting. Though success will be their but it will demand a bit more push or pull.
Business men will also have increased sale and so the customer/client base. Generally health will also be good but there can be some issues with the child related to health or performance. Man and woman with Aquarius ascendant may have chance to win accolades, rewards this year. There will be general name fame and recognition from the work and also from society to the native.
According to Aquarius ascendant  2019 horoscope, this year Jupiter is going to bless you with good career, status, all your pending desires will be fulfilled and much relief from negativity point of view in profession will be there. Native with Aquarius ascendant will be experiencing good workable environment at office, not much interference or obstruction will be felt this year in comparison to previous year.
All old problems will be resolved or will be having win-win solution to the native .Basically native will enjoy his/her work and will try to give max of efforts to get max output of potential. Superior and subordinates will be supporting and extending favor to enhance career. Career will be upgraded as per transit if native too have promise in natal chart then for sure.
For Aquarius rising persons, apart from the above said native may have to face enmity and external influences which may cause trouble till March this year. Some problems in execution or strategic implementation of work native may be facing before March. Chances will be there where native may stuck into any kind of litigations or disputes with government or authority before till March.
Uptill this time persons having Aquarius ascendant should not or be very careful in stock trading, share market, other financial activity which may bring sudden losses or troubles. Native may also face some sort of a trouble in sleep or even can see bad dreams, sometime may get fear stricken on account of supernatural etc.
As per Aquarius ascendant 2019 horoscope , this year is also not good for those who are planning to have baby birth this year as may attract miscarriages or abortions if natal horoscope also indicates such kind of troubles. But whatever is there this year is capable to give atleast obstruction or trouble in child birth or to the children of the Aquarius natives especially to the first child.
Aquarius rising students may lose their focus on account of distraction of outer world, love affairs, emotional instability etc. this year. Hence they should worship Lord Shiva or lord Kaal Bhairava, visit their temple regularly on Wednesdays or Saturdays to seek blessings.
Since for aquarius love birds and those who are looking for the partner this year will prove to be fruitful however chance of dejection and fraud will also be associated with it which may bring mental troubles etc.
Though this year if native with Aquarius lagna is not taking care of their emotional well being then it can invite any type of mental issues, depression etc. This year is also capable to sudden gains or losses as well.
BOOK YOUR HOROSCOPE CONSULTATION
Iti Shubham
Namo Narayan