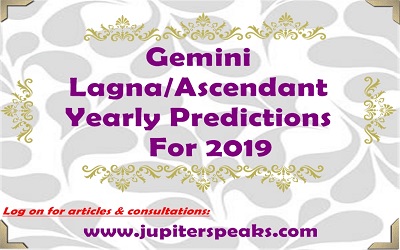 Gemini Ascendant 2019 Horoscope Predictions for Males & Females
Gemini Ascendant 2019 Predictions – As the Year 2019 knocks the door Gemini Ascendant / rising signs males and females  eagerly looking forward to know what this year is beholding in his hands. As per vedic astrology, we will try to throw some light on the possibilities career, education, marriage, love, health, job, finance etc for the natives of Gemini Ascendant / Mithuna Lagna  in natal chart/ rashi chart) through the transit of major planets taking place in year 2019.
Though these predictions are generalized and made for all the nativities falling under the specific ascendant/lagna. Readers must always bear in mind that these predictions are common to all and may vary on the basis of other peculiarities of an individual's horoscope. But it is very sure that the pointed areas will be receiving favors or adversities, intensity may be varying depending upon individual's horoscope.
Gemini Ascendant 2019 
For Gemini ascendant people major transiting planets Saturn, Jupiter, Rahu-Ketu will be passing through the 7th, 6th, 2-8  houses respectively wherein Rahu-Ketu will change their axis from 2-8 to 1-7 from 7th March 2019 onwards till the end.
According to Gemini ascendant/lagna horoscope 2019, these man and woman will be having good fate in regard to diseases , if this native undergoes any operation or surgical intervention into his/her ailment then will be done successfully with considerably reduced risk and quick healing.
It will also be experienced by Gemini rising sign person that the enemies of the native will be either hibernate or patch up will be done with them. Also debt of the native will be reduced to much extent and expenditures will be under control this year.
If native is undergoing any litigation then there native will find judgement or favorable results this year.
During this year person will be having inclination towards spirituality and meditation, he/she will be involved in helping other or may get associated with any ashram etc.  Native will love to be in touch with nature and will be spending time in the nature which they must be missing since few years.
These man and woman will be contemplating over new paths, ideas and will be planning to move ahead on that plan & strategies.
As per Gemini ascendant / lagna horoscope 2019,during this year native will be blessed with luck in family, before March 2019 spouse will be having growth in career, may find good promotion, role of choice or profile in some different company with salary hike as well.
But after March things will change will come but can cause trouble as well in terms of career to the spouse though if Natal horoscope is having good position of Rahu Ketu axis and good dasha running then sigh of relieve is there otherwise can bring sudden tragic  folds in career.
Worshipping Lord Ganesha will help a lot. During this year largely before March spouse's family can have marriage ceremony of any family member and happiness will be there but after March things may change unexpectedly and trouble in marriage at in-laws will be seen, can even break the marriage or any ceremony.
As per Gemini rising sign horoscope 2019, this year native will be having very untoward feeling towards own self if strong dasha support is not their then it can prove to be fatal as well. Native may be having mental unrest and unwanted mood swings over trivialities which may trouble his/her relation with opposite person. Sudden lost or gain of weight is also felt in this year.
During this transit native can build his house or happiness through house is predicted , those who are into business they will be doing very well till March but when Saturn will be joined by Ketu then trouble or any unforeseen circumstances may arise in business which can obstruct the flow and bring tensions in partnership as well.
Mithuna lagna man and woman before March should have to take care of his/her speech and relationship with family members otherwise it will bring ill repute or misunderstanding in the social, professional circle. Native may get addicted to any eating drinking habit, money may come from wrong or unethical way till March.
It is suggested to the native that during this native should keep his/her anger or emotions into control, native may burst onto others without any rhyme and reason or on the basis of suspicion or rumors which will attract monetary losses to the native.
According to Gemini ascendant horoscope 2019, this year native will feel low in confidence and any kind of illusion delusion in the decision making, they will be not so active in actions and low self-confidence will not let him take any firm action. Native will be developing peevish nature.
BOOK YOUR HOROSCOPE CONSULTATION
Iti Shubham
Namo Narayan