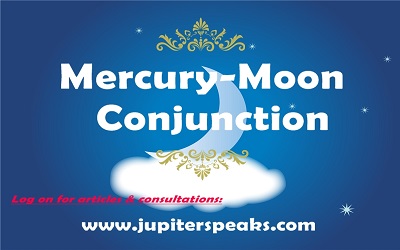 11 Blessings of Moon Mercury Conjunction in Horoscope
As per Vedic Astrology, we tried to brief various effects of Moon Mercury Conjunction or Budha Chandra yuti in different house from lagna or navamsa charts of both male and female horoscope of all ascendants.
Effects of Moon Mercury Conjunction
This is not a rare kind of conjunction but occurs very frequently in the natives as both the planets are fast moving and conjunct frequently than usual slow moving planets. In terms of natural friendship Moon consider Mercury as friend while Mercury takes Moon with enmity. Thus, it  is considered as a one sided relationship and thus when moon conjunct mercury has both positive as well as negative shades.
Native having Moon Mercury conjunction are usually soft spoken and good in communication, they have smiling face, is a jocular and is liked by ladies and so they have more favor from female natives.
These natives have very active mind, thinking is more influenced by mood & situations, more have feeling based behavior and actions, mood & brain both follow each other.
Man and woman with Moon and Mercury combination are indeed very intelligent and detail loving as well. It is also believed to constitute nipun yoga. They are also excellent observer and good at reading minds of other people.
Males & females with Mercury and Moon conjunction are religious, learned and has merits. He/she possess literary bent of mind and is rich.
It is also seen many times that these natives are very talkative and go on expressing , explaining their feelings, share day-to-day life with anyone who can listen to them.
Moon and Mercury conjunction happens in 1st house from lagna or navamsa chart then native leads a prosperous life, good in speech, backed by stamina , has attractive personality and eloquent but clever.
If this conjunction occurs in 1st,4th,7th,10th , 5th ,9th houses then it is seen giving excellent results. In these house it can raise one to high position in life, makes him/her proud, wealthy and very famous as well.
It is seen that Mercury Moon Conjunction natives are having more romantic and poetic inclination, if other factors also support then this conjunction is one of the combination for love marriage or romantic affair.
This conjunction is capable to bestow one with vehicle, conveyances, good friends and good relations as well with an attractive personality.
When moon conjunct mercury in 3rd, 6th, 8th, 12th houses of the horoscope then native still have poetic and literary bent of mind but yes native can have some emotional or psychological issues, not so wealthy and influential but will be brave and fearless.
If this conjunction is under much malefic affect then it can lead to traumatic experiences to the native with much mental issues.
Above results of  Moon Mercury Conjunction are general in nature, results modified  on other factors also such as house, degree, involvement benefics,malefics, points,etc. Hence collective study is needed before arriving onto conclusion.

General Remedies
BOOK YOUR HOROSCOPE CONSULTATION
Namo Narayan
Jupiter Speaks
You can read all latest research articles & remedies published regularly on our blog. Don't forget to like us on our official pages
You can also connect with us on Jupiter Speaks Official Facebook Page.
You can also connect with us on Jupiter Speaks Official Twitter Page.
You can also connect with us on Jupiter Speaks Official Quora Page.