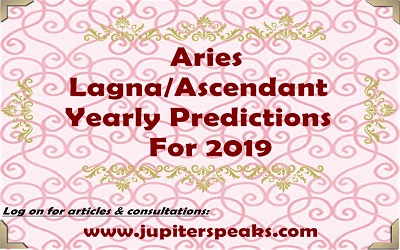 Aries Ascendant 2019 Prediction for Males & Females
Aries Ascendant 2019 Predictions –  As the Year 2019 knocks the door Aries Ascendant / rising signs males and females  eagerly looking forward to know what this year is beholding in his hands. As per vedic astrology, we will try to throw some light on the possibilities career, education, marriage, love, health, job, finance etc for the natives of Aries Ascendant / Mesha Lagna  in natal chart/ rashi chart) through the transit of major planets taking place in year 2019.
Though these predictions are generalized and made for all the nativities falling under the specific ascendant/lagna. Readers must always bear in mind that these predictions are common to all and may vary on the basis of other peculiarities of an individual's horoscope.
But it is very sure that the pointed areas will be receiving favors or adversities, intensity may be varying depending upon individual's horoscope.
Aries Ascendant 2019 
For Aries ascendant people major transiting planets Saturn, Jupiter, Rahu-Ketu will be passing through the 9th, 8th, 4th -10th houses respectively wherein Rahu-Ketu will change their axis from 4-10 to 3-9 from 7th March 2019 onwards till the end.
According to Aries ascendant/lagna horoscope 2019, native will be finding new horizon and new lease of life to kick start the life. This year will fetch you in the untouched genre of your life so gear and cheer up for fresh start.
This year losses will be reduced and native will be moving towards improving his/her financial as well as mental arena.As per Aries ascendant/lagna horoscope 2019, this year Aries ascendant natives will be relishing the taste and finding interest in mystical side of the religion occults or any secretive sciences.
Those who have never touched this side will be somehow introduced in these faculties and those are already in this area will be diving deeper into this realm. Visiting holy places, pilgrimage will be seen this year.
Native will be finding into social service, willing to help the needy and downtrodden. Native will find himself at the quieter side of the life, he/she will start thinking in organized peaceful way to sort out his/her major problems of life.
Any operation or surgical intervention which may be pending since long or can pop up suddenly on account of any health issue but it will not create much problem. Work area growth may be bit stagnant this area, business men will be having sudden gains or improvements but whatever dues or balances you were carrying will be cleared.
As per Aries ascendant/lagna horoscope 2019 till February end some troubles or loss of peace can be felt. Problem with the vehicles or property can be seen, refrain from sale and purchase of property till March this year. Native should drive carefully and refrain from over speeding, drunk driving etc. till March.
Take care of your vehicles safety and also health of both parents as chances of trouble will be there. There can be feeling of pessimism arising in the native till March.
As per Aries ascendant/lagna horoscope 2019 ,all in all good period and native will find that most of the problem which were prevailing last year will be sorted out and solutions will be met this year.
Students will be getting admission into good schools and those preparing for the competitive exam will find success. This year is going to bring good relation with your superiors and bosses and also with father/mentors.
After March there is possibility that native's cell phone or any electronic gadget may be lost or damaged any communication related issues particularly with the equipment they can face. Sibling's health may be problematic, hence if any problem arise to them ask them to take treatment without delay.
BOOK YOUR HOROSCOPE CONSULTATION
Iti Shubham
Namo Narayan