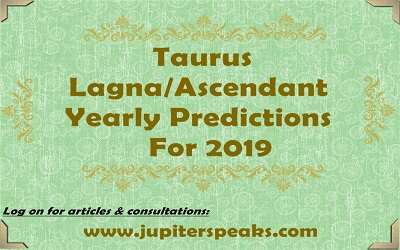 Taurus Ascendant 2019 Predictions for Males & Females
Taurus Ascendant 2019 Predictions –  As the Year 2019 knocks the door Taurus Ascendant / rising signs males and females  eagerly looking forward to know what this year is beholding in his hands. As per vedic astrology, we will try to throw some light on the possibilities career, education, marriage, love, health, job, finance etc for the natives of Taurus Ascendant / Vrishabha Lagna  in natal chart/ rashi chart) through the transit of major planets taking place in year 2019.
Though these predictions are generalized and made for all the nativities falling under the specific ascendant/lagna. Readers must always bear in mind that these predictions are common to all and may vary on the basis of other peculiarities of an individual's horoscope.
But it is very sure that the pointed areas will be receiving favors or adversities, intensity may be varying depending upon individual's horoscope.
Taurus Ascendant 2019 
For Taurus ascendant people major transiting planets Saturn, Jupiter, Rahu-Ketu will be passing through the 8th,7th, 3-9  houses respectively wherein Rahu-Ketu will change their axis from 3-9 to 2-8  from 7th March 2019 onwards till the end.
According to Taurus ascendant 2019, those man and woman who are unmarried and waiting for the wedding bells to rang there wait is over and this year will be the happy time for them, marriage bliss they are going to enjoy.
This year indeed will the best time for the for all love birds as they can convert their love into permanent bond f marriage and take it to the other level, those who are searching for the love interest  will find their soulmate.
Those who are already married they will be having perfect time this year to enjoy matrimonial bliss like never before, smooth and perfect relationship will exist during this year, those who are undergoing poor phase of their relationship.
They will find their relation improving and moreover bitterness or misunderstanding will be reduced, issues will be resolved and harmony will be restored. Extended and favorable support from the in-laws family will be seen this year.
According to Taurus ascendant / lagna horoscope 2019, businessmen fraternity will be enjoying their show mostly in profits and alongside their partnership will be strengthened or expand with new partner till the first half of the year.
After March things may change untowardly may lead towards losses and failures.  Those in jobs may not have so good year as they may find obstructions as well reduction in income.
Vrishabha Lagna males and females should take care of elder members of the family in 2019  as they are prone to suffer from health related issues which can turn out to be critical and fatal as well.
Students may not enjoy good marks this year and those who are into competitive examination prepare may gain very less in comparison to the efforts or labor they have applied.
People who are into occult or any secretive sciences can feel more inclination and enhanced success in that area. This period can be called good for those who are into healing/ medical profession or tending towards it.
As per Taurus ascendant 2019, this year is also capable to bring mental pains, agony due to outside influence or over empowering enemies trying to dominate on your endeavors. This year will not be good for the natives having Taurus ascendants as they will be facing issues in their employment and jobs.
Transiting Saturn in 8th house is capable to bring transfers or change of residence.
Do not try to leave your job until and unless you are having any other back up else Taurus native may have to sit idle and may have to several challenges in professional paradigm thus stay alert and stay sincere as well. Take care of your eye during this as is prone to suffer.
Taurus ascendant / lagna natives from beginning till March native may find any sort of a trouble to/with computers, laptop, mobile, software issues will happen and trouble to younger siblings will also but after March native should have to take care of his/her speech and relationship with family members otherwise it will bring ill repute or misunderstanding in the social, professional   circle.
Native may get addicted to any eating drinking habit, money may come from wrong or unethical way after March. It is suggested to the native that during this native should keep his/her anger or emotions into control, native may burst onto others without any rhyme and reason or on the basis of suspicion or rumors which will attract monetary losses to the native.
BOOK YOUR HOROSCOPE CONSULTATION
Iti Shubham
Namo Narayan