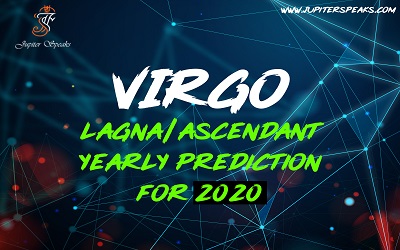 Virgo Ascendant 2020 Horoscope Predictions
Virgo Ascendant 2020 Predictions –  With the onset of year 2020, every individual is fond of looking forward to know what this year hold for them in career, marriage, finance, health, love, business etc. As per Vedic astrology, we will try to predict for the in general in major areas of life for the natives of Virgo Ascendant / Kanya Lagna in natal chart/ rashi chart in horoscope through the transit of major planets taking place in year 2020.
Though these predictions are generalized and made for all the man and the woman falling under the specific ascendant / lagna. Readers must always bear in mind that these predictions are common to all and may vary on the basis of other peculiarities of an individual's horoscope. But it is very sure that the pointed areas will be receiving favors or adversities, intensity may be varying depending upon individual's horoscope.
Virgo Ascendant 2020
This year for the native having Virgo ascendant will have very positive impact on the progeny area meaning those you are planning to begin family or even those want to expand their family will be enjoying positive and successful year in this regard. For those who are already having children then children will be bringing laurels and fame to them and will be successful in exams and getting prizes/recognition in extra- curricular activities.
Read More:-  Aries Ascendant 2020 Horoscope Predictions
There will be success in career if also dasha support is there. Virgo natives may be getting promoted or upgraded in career with struggles however donning new profile or role with more responsibilities and liabilities. Nonetheless, Virgo natives will be recognized for their talents and skills from their company
Inspite of promotions etc. native may have to face problems at work also, those in business may have to face losses. There will be repeated thoughts nagging that ideas do not work as the way he/she likes to be. There will be continued problems with bosses/superiors of the organization and likely to face disrepute or humiliation as well.
If good dasha is not there then native may opt to impulsive resign. All will look to be good on surface but will actually problematic in reality. Travelling will also not prove to be fruitful but problematic.
Virgo native will be blessed this year with almighty with the fortune of meeting right people at right time which will certainly lead to growth and upliftment.
They will also find chances to visit sacred/holy places and meet holy people.
This year Virgo ascendant people are going purchase new vehicles and replace their old ones. There will be low maintenance and driving failure in vehicles, mostly they will be running smoothly with less expenses.
Those who are planning to purchase landed property or plots they will be accomplishing their wishes this year, if not selling purchasing then atleast they will be redecorating and re-organizing their old one.
Read More:-  Leo Ascendant 2020 Horoscope Predictions
Mind will be mostly at least peace if dasha also supports. Native will be involved in charitable deeds as well by helping others and doing social works. Many Virgo ascendant people will be polishing their resumes by learning new skills.
BOOK YOUR HOROSCOPE CONSULTATION
Iti Shubham
Namo Narayan