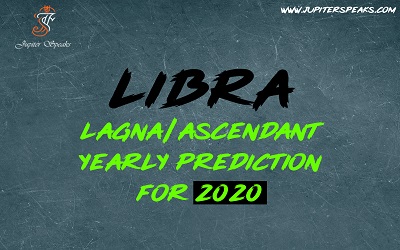 Libra Ascendant 2020 Horoscope Predictions
Libra Ascendant 2020 Predictions : With the onset of year 2020, every individual is fond of looking forward to know what this year hold for them in career, marriage, finance, health, love, business etc. As per Vedic astrology, we will try to predict for the in general in major areas of life for the natives of Libra Ascendant / Tula Lagna in natal chart/ rashi chart in horoscope through the transit of major planets taking place in year 2020.
Though these predictions are generalized and made for all the man and the woman falling under the specific ascendant / lagna. Readers must always bear in mind that these predictions are common to all and may vary on the basis of other peculiarities of an individual's horoscope. But it is very sure that the pointed areas will be receiving favors or adversities, intensity may be varying depending upon individual's horoscope.
Libra Ascendant 2020
As per Libra ascendant/lagna horoscope 2020, this year is going to bring travel that will be mostly short distance and will be in nearby places. These journeys can be on account of leisure trip or visiting holy places, holy dips into sacred rivers, shrine etc. All short journeys taken this year will be mostly fortunate and trouble free as well.
This year native with Libra rising is also going to purchase latest electronic or communication devices which will mostly be mobile, laptop computers, etc. Certainly, this year is going to bring positive relation and conversation with siblings especially with younger ones.
According to Libra ascendant/lagna horoscope 2020, this year is going to be much favorable for the Libra ascendant natives in terms of acquiring landed properties or obtaining immovable assets, matters related to sale-purchase of vehicles.
Read More:-  Sagittarius Ascendant 2020 Horoscope Predictions
Libra natives will be highly likely undergoing change of residence/relocation, change of office, change of premise for business this year. During this year alteast renovation or maintenance of home will be done if not purchase of new happened, there will be change in the interior decoration of the house or something like up gradation will happen which will be giving the home of the native a new look or appearance.
It is possible that native may shift into new home this year. Likely that felicitation in terms of home or vehicle may been awarded by employer to the Libra native this year. Luxury items of home décor will be purchased in this year.
Nonetheless, native can have reduced faith in god and religion, he/she may act in rebellious manner towards traditions rather he/she may be trying to practice new ideas in this field. Native will be having thinking in other ways about religious believes and culture etc.
There are higher chances that father/fatherly figure or guru/teacher of the native may have any kind of health issues which can turn to be worst if not addressed immediately. Also health issues with younger sibling can popup. Hands, shoulders and respiratory system is most prone to suffer this year.
Read More:-  Virgo Ascendant 2020 Horoscope Predictions
Native may feel as of low in courage and efforts this year. Religious trips may not tun out to be positive or may be troublesome. Irreligious tendencies will be on rise this year however will be following occult matters and meditations of new age.
BOOK YOUR HOROSCOPE CONSULTATION
Iti Shubham
Namo Narayan