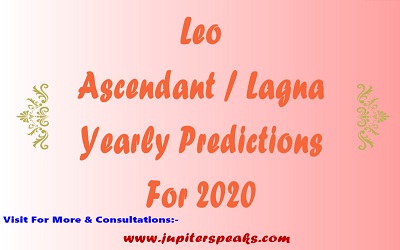 Leo Ascendant 2020 Horoscope Predictions
Leo Ascendant 2020 Predictions –  With the onset year 2020, every males and females is looking forward to know what this year hold for them in career, marriage, finance, health, love, business etc. As per Vedic astrology, we will try to predict for the in general in major areas of life for the natives of Leo Ascendant / Simha Lagna in natal chart/ rashi chart in horoscope through the transit of major planets taking place in year 2020.
Though these predictions are generalized and made for all the man and the woman falling under the specific ascendant / lagna. Readers must always bear in mind that these predictions are common to all and may vary on the basis of other peculiarities of an individual's horoscope. But it is very sure that the pointed areas will be receiving favors or adversities, intensity may be varying depending upon individual's horoscope.
Leo Ascendant 2020
This year 2020 for Leo rising natives in horoscope is going to be joyous in concern to progeny, those who are planning for the baby they will be successful. Person with Leo ascendant in horoscope will be having more inclination towards reading books and upgrading themselves. There will more inclination and tendency to earn or get benefitted from government. Learners / students will participate in extracurricular activities and emerge successful in their school/college events etc.
Read More:-  Aries Ascendant 2020 Horoscope Predictions
Leo lagna males and females will find growth in their intuitive powers and also highly likely that those who are looking love connection or partner will find one this year. New innovative ways of thinking and ideas will be developed this year.
Those who are trying to learn mantras, sacred scriptures and sadhana this year will fetch them opportunity to read and learn. More or less this year is going to bring positive people in life those who can bring happiness and peace.
However, this year is going to bring opportunities and temptation to earn illegally or in negative ways. Also, you might be influenced or in contact with people who are into such ways of earning money. Good friends will be lost or disassociated this year while more negative friend circle may increase.
Leo ascendant people should be careful while dealing with the opposite sex as any relationship could lead to loss of reputation or unwanted problems socially.
Unwanted/ unwarranted meaningless arguments in social groups on social media or even in physical groups can be seen hence do not indulge into such activities of ego clashes.
This year Leo lagna / rising people will be facing more enmity and opposition; new enemies will be added and Leo will feel that they are strong than him/her. There will be sudden change in friendships and partnerships. Any prevailing disease can be elevated and surgical procedures will be needed.
Read More:-  Cancer Ascendant 2020 Horoscope Predictions
Work will be executed with difficulty and office politics or foul play will be on rise giving anxiety. Court cases or litigation may not fall to your side. Loss in business can be seen hence careful investment and planning is needed. Superiors/boss/authorities may be troubling Leo natives.
Leo Lagna Remedies 2020 : Worshiping Lord Hanuman on Saturdays will help a lot to them.
BOOK YOUR HOROSCOPE CONSULTATION
Iti Shubham
Namo Narayan