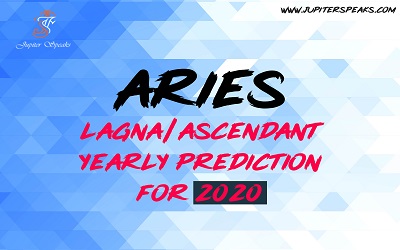 Aries Ascendant 2020 Horoscope Predictions
Aries Ascendant 2020 Predictions –  With the onset year 2020, every males and females is looking forward to know what this year hold for them in career, marriage, finance, health, love, business etc. As per Vedic astrology, we will try to predict for the in general in major areas of life for the natives of Aries Ascendant in natal chart/ Mesha Lagna in rashi chart in horoscope through the transit of major planets taking place in year 2020.
Though these predictions are generalized and made for all the man and woman falling under the specific Aries ascendant / lagna. Readers must always bear in mind that these predictions are common to all and may vary on the basis of other peculiarities of an individual's horoscope. But it is very sure that the pointed areas will be receiving favors or adversities, intensity may be varying depending upon individual's horoscope.
Aries Ascendant 2020
Aries ascendant / rising sign persons will be having increased interest in religion and will be likely to have enhanced spiritual disposition.
Native will have improved bonding with the father and they can expect that relationship with the father to be more positive, cordial and helpful as well if not going well in previous year.  If relationship with father is not good there will be new way of looking at critical behavior of one's behavior.
Aries rising males and females will earn respect, humility and affection from elders by respecting them.
This year you will be more inclined towards religious disposition and will find occasion or chances to visit shrines/holy places.
Those who don't have guru/mentor in their life it is highly likely that they are going to meet one, chances of having long distances journey will be on rise this  year.
For Aries lagna individuals this year is going to be very crucial from career/work point of view, likely to have change of job for those who wish and working in private sector. But those in government job can find change in residence or transfer or change in department however no matter with which sector you are working certainly work/profession will fetch more responsibility and change in role/function.
Nonetheless, there will be promotion, salary hike and hard work done with sincerely then it can even attract recognition/admiration for the same. Private job individuals will be having higher chance to change/shift.
Native can be a part or could perform karma related to dead.
During this year 2020, Aries rising / ascendant man and woman will feel energetic or valorous or even pretend to be brave. However many times will be confused or unknown where and how to use that valor, electronic gadgets, laptop, mobiles may not function properly or will be having issues more often than before. Even mobile, gadgets etc can be lost or stolen as well.
Younger sibling or father-in-law will suffer due to health, you or relatives could have throat related issues where as Aries ascendant can feel strained relation with the aforesaid relatives.
Aries Lagna Remedies 2020 : Worshiping Lord Saturn will be of great help this year Aries Ascendant males and females.
BOOK YOUR HOROSCOPE CONSULTATION
Iti Shubham
Namo Narayan