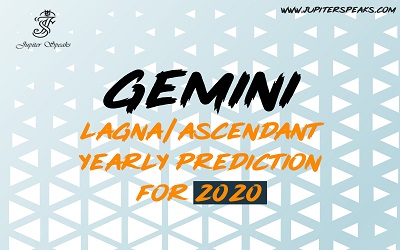 Gemini Ascendant 2020 Horoscope Predictions
Gemini Ascendant 2020 Predictions –  With the onset year 2020, every males and females is looking forward to know what this year hold for them in career, marriage, finance, health, love, business etc. As per Vedic astrology, we will try to predict for the in general in major areas of life for the natives of Gemini Ascendant / Mithun Lagna in natal chart/ rashi chart in horoscope through the transit of major planets taking place in year 2020
Though these predictions are generalized and made for all the man and woman falling under the specific ascendant / lagna. Readers must always bear in mind that these predictions are common to all and may vary on the basis of other peculiarities of an individual's horoscope. But it is very sure that the pointed areas will be receiving favors or adversities, intensity may be varying depending upon individual's horoscope.
Gemini Ascendant 2020
This is going to be bit stressful for the Gemini ascendant people, enemies may trouble or at least will be the reason to worry. This year can attract disrespect or loss of position or humiliation atleast. Those who are under going bad dasha connected to career or profession can have to face change of place to unknown or lesser known places.
Read More :  Aries Ascendant 2020 Horoscope Predictions
In financial matters, income of the Gemini rising males and females can shrink or blockage in the source of income cam be felt, health issues may be adversely troubling you. Loss in business or enterprise will be seen thus it is recommended that be very careful in big business decisions. Those who are in competitive exams may have to settle with less than expected, if someone is in medical line then they need to be more careful.
Nonetheless, those who are seeking wedlock or seeking partner can get married or atleast will find partner with whom they can get married further, also love birds can convert their relationship into marital bond. Even those who are looking for partner to enter relationship they can find someone.
This year will be fetching opportunities for foreign travel. Those who are married they will be enjoying peaceful time with better half. Business partnership or alliances can turn positive this year. In-laws will be helping and supporting to the Gemini ascendant people. Those people with troubled relationship will be feeling some relief or their separation/divorce will end up peacefully.
This year man and woman with Gemini ascendants in horoscope will be having any sort of a fear, timidity and lack of courage and confidence as well. During this year this lagna native can have feel of disrespect and loss of self-esteem as well.
Read More :  Taurus Ascendant 2020 Horoscope Predictions
There will be confusions and illusions in decision making, thinking or thought process will be clouded or marked with muddled thoughts. Gemini rising native will have peevish nature developed or getting irritated over small things. Many will be having extreme behavior and moodiness developed with darker face and sudden loss of weight.
Gemini Lagna Remedies 2020 : worship Lord Vishnu or Lord Bhairav, atleast pour water and lit a lamp in peepal tree positively on Wednesdays and Saturdays.
BOOK YOUR HOROSCOPE CONSULTATION
Iti Shubham
Namo Narayan