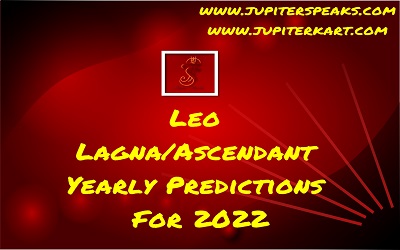 Leo Ascendant 2022 Horoscope Predictions
Leo Ascendant 2022 Yearly Predictions
As we all know that Jupiter is passing through Aquarius and will also pass Pisces in 2022 wherein Saturn is already moving in Capricorn however Rahu and Ketu continue in Taurus and Scorpio till April and will move in Aries and Libra in rest of the year Now, we are going to predict general results for all ascendants in 2022.Though these predictions are generalized and made for all the man and woman falling under the specific Leo ascendant / lagna. Readers must always bear in mind that these predictions are common to all and may vary on the basis of other peculiarities of an individual's horoscope. But it is very sure that the pointed areas will be receiving favors or adversities, intensity may be varying depending upon individual's horoscope.
CancerAscendant 2022
Leo ascendant 2022, after April this year there will be problems and understandings with the boss at workplace and elders  in personal life. These natives will feel difficulty in getting along with those who occupy superior positions than the native. This year Leo natives will act in rebellious manner against their teachers, gurus or father's set path and teachings.
Also Read: https://jupiterspeaks.com/gemini-ascendant-2022-horoscope-predictions/
This perhaps will be the year when Leo native experiments with new ideas and teachings and will learn lessons and experiences good or bad. Leo Ascendant may feel difficulty and even can face odd situations when they may visit or plan to visit holy places or spiritual journeys may not fructify for one or other reasons.
Perhaps, if other factors strongly support in Leo ascendant native chart than likely that elderly member can suffer and the teacher/mentor/guru may face adverse situations in life. This will be year when Leo ascendant natives will tend to act against traditional path and will be trying to experiment in occult related matters.
Till starting of May ,Leo native will get chance to marry or atlaest get suitable match if looking for alliance if in marriageable age. Chances of going abroad is also predicted while growth in work is too expected, relationship with wife will be good and partnerships will run positively. From April onwards in-laws may extend or offer help support to Leo Ascendants 2022. Those who are undergoing bad relationship with spouse then this year may make situations conducive to come together again.
Also Read: https://jupiterspeaks.com/gemini-ascendant-2022-horoscope-predictions/
After May, Leo native will find chance to visit people who are terminally ill. If there is any disease related to secret parts and treatment via surgery is needed then success will be foreseen.
Leo natives if suffering from any major disease, then there will not be aggravation atlaest after May. Cancer ascendant native will feel inclination and interest in mystical, occult sciences, they will also try to explore secret side of the religion.
Time duration between mid-October till first week of December there are chances that younger siblings may feel any sort of health issues or problems in life also Leo natives can have trouble in shoulders or hand or troubles in gadgets he/she is using.
From May onwards even if native were to face any tense situation, they can be assured that it will not be going to extremes. In second half of the year, old debts of the Leo natives can be easily cleared at least partially.
Shop at: https://www.jupiterkart.com/new
Leo Lagna Remedies 2022 : Worshipping Lord Hanuman and Lord Brihaspati will help a lot to them this year Leo Ascendant males and females.
BOOK YOUR HOROSCOPE CONSULTATION
Iti Shubham
Namo Narayan