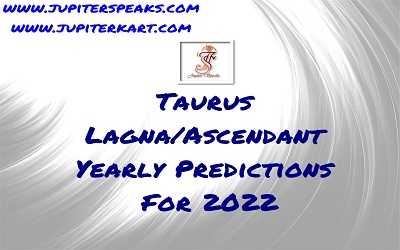 Taurus Ascendant 2022 Horoscope Predictions
Taurus Ascendant 2022 Yearly Predictions
As we all know that Jupiter is passing through Aquarius and will also pass Pisces in 2022 wherein Saturn is already moving in Capricorn however Rahu and Ketu continue in Taurus and Scorpio till April and will move in Aries and Libra in rest of the year Now, we are going to predict general results for all ascendants in 2022.Though these predictions are generalized and made for all the man and woman falling under the specific Aries ascendant / lagna. Readers must always bear in mind that these predictions are common to all and may vary on the basis of other peculiarities of an individual's horoscope. But it is very sure that the pointed areas will be receiving favors or adversities, intensity may be varying depending upon individual's horoscope.
Taurus Ascendant 2022
For Taurus ascendant 2022 is going to be mixed for the Taurus ascendant natives, for them uptill Jupiter transit in Aquarius 2022, first half of the year particularly till April good time from career perspective seems to be coming and nagging old problems is going to be resolved , you will be able to resolve problems cordially, work will tend to give joy and peace to the native , like that till this time cordial relation with peers and superiors can be experienced nevertheless till April-May there can sudden transformation or upliftment in native's career can be seen.
Taurus ascendant 2022 during April- May month and also  from October – November there  are chances that father and mother or anyone among them can suffer , also elder sibling's in-laws  can suffer any sort of trouble or health /mental/ physical troubles during this time hence care need to be taken of parents if they are in old age. April-May month will be eventful for Taurus natives.
In second half of the of the year  there will be expense on account of anything in family or over self  but will be under control, there will be success in the hospital procedures or operations in case it happen to the Taurus natives . Precaution in investment in stock market should be taken, wait and watch policy should be opted in order to avoid loss. Taurus ascendant 2022 native will employ successfully  cost cutting measures in order to manage expenses. Native will be getting chances to undergo journeys for religious purposes and will be dwelling on soul oriented programs like yoga, meditation, serving ashrams etc.
Taurus  ascendant 2022 from mid April till mid May there are chances that any new relationship can begin, can get chance of love romance, love interest etc. also can attract more luxury or material pleasure however be careful as it can even attract shrewd or cunning partner which may even attract loss.
Nonetheless Taurus ascendant 2022 natives should be careful during October till mid-December as can attract any sort of injury, cut, wound, accident, health issues etc. drive carefully during this time and control over temperament need to  be checked, avoid unwanted clashes with anyone. Intestine, stomach, kidney area can need any sort of correction or may face trouble. Sleepless/ trouble getting sleep, bad dream after April can be felt however good chances of foreign travel is there, unexpected losses can be felt, big unbearable investment need to be avoided, chances of getting addiction or bad habit of any sort is there in this year.
Taurus Lagna Remedies 2022 : Worshiping Goddess Durga and Lord Rahu will be of great help this year Taurus Ascendant males and females.
Shop at: https://www.jupiterkart.com/sphatik-mala-clear-quartz-crystal-rosary
BOOK YOUR HOROSCOPE CONSULTATION
Iti Shubham
Namo Narayan