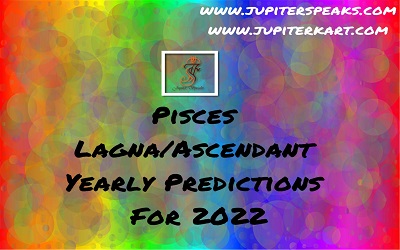 Pisces Ascendant 2022 Horoscope Predictions
Pisces Ascendant 2022 Predictions
As we all know that Jupiter is passing through Aquarius and will also pass Pisces in 2022 wherein Saturn is already moving in Capricorn however Rahu and Ketu continue in Taurus and Scorpio till April and will move in Aries and Libra in rest of the year Now, we are going to predict general results for all ascendants in 2022.Though these predictions are generalized and made for all the man and woman falling under the specific Pisces ascendant / lagna. Readers must always bear in mind that these predictions are common to all and may vary on the basis of other peculiarities of an individual's horoscope. But it is very sure that the pointed areas will be receiving favors or adversities, intensity may be varying depending upon individual's horoscope.
Pisces Ascendant 2022
According to Pisces ascendant/ lagna horoscope 2022, these natives will enjoy mixed results in the first half of the year 2022 mostly before May, these natives will have expenses due to family or on self  more than normal but the best part is that the same will be under control. If the Pisces ascendant 2022 natives need to undergo any sort of medical procedures or operations, surgery etc. then the success will be achieved and native will get big relief from the ailment. During this year 2022 native having Pisces ascendant 2022 should not aggressively or emotionally into stock market but employ wait and watch tactics in order to avoid losses. Those who are running their business they will be successful in managing their expenses with good tactics and will not hesitate to employ cost cutting measures and  tifgten the belt. It is very likely that in Pisces ascendant 2022 natives will undertake travel to religious places and dwelling on soul oriented experiences . There is quite a possibility  for some  pisces natives in 2022 to get enlightened or get divine blessing in some or other way.
Nonetheless, as transit  of Rahu-Ketu will be occurring through 2-8 axis from April onward  and is usually not considered good especially to those native  who are undergoing bad dasha in year 2022, as thus time is full of expenditures wanted or unwanted, income source may have some trouble, native will be having bad language and negative orientation during this course of time. One more thing which in general appears that native will be criticized by the people and chances of dispute/ conflicts with family members increases, unhappiness may prevail. Work will be accomplished with trouble or hurdles and in this due course native thinks as if he/she is not fortunate. Pisces ascendant 2022 natives mind will be wondering and focusing on the resources and experimenting in money matters, wealth etc. and gets confused and hence ambiguating prevailing. Goddess Durga to be worshiped during this time. Likely that issues related to in-laws, their family can pop up and even some health issues can bother, any near dear may have critical health issues.
Nevertheless, after first half, from Mat onwards, Pisces ascendant 2022 natives will be feeling gain in confidence and will develop positive attitude leading to betterment in personality and grooming. Natives with Pisces ascendant will have new ideas striking and will learn better ways to solve problems likely in benefic development. Opportunities will come in the native's way, offering new hope, gain and a new lease of life.
If the Pisces Ascendant 2022 native was previously sick then health will start improving after May. There will be accomplishment of tasks or karya siddhi for the native after struggles. Pisces ascendant 2022 natives will start to feel happy and contended with the way things go, luck will manifest by way of coincidences to them largely after May'22.
Between mid of April till Mid May and also from mid-October till mid-November there are chances that any one in family can have health issue or receive any sort of  defamation/blame/disrespect.
From end October till first week of December, these natives in laws family can have any sort of injury, cut wound, accident etc. or they may have any excretory system or sex organ related issues.
Nonetheless this year will increase expenses but can also bring wealth, new business or associates and new friendships by coincidences will bring in wealth and gain to Pisces ascendant 2022 natives. There will be likely an increase in clientele or sales volume of products for those in business. Health will be good, this year may even fetch rewards or awards to these natives, earning good name and increase in social circle can be expected.
Leg,excretory or reproductive organ may need any sort of correction or doctor's help to the native during this year.
Pisces Lagna Remedies 2022 : Worshiping Goddess Durga  and Lord Shiva will be of great help this year Aquarius Ascendant males and females.
Shop at:https://www.jupiterkart.com/tulsi-kanthi-mala-iskcon-vrindavans
BOOK YOUR HOROSCOPE CONSULTATION
Iti Shubham
Namo Narayan