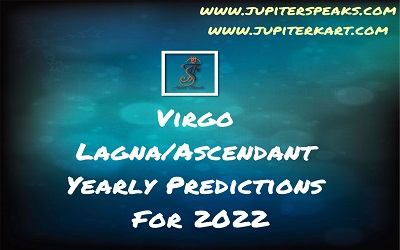 Virgo Ascendant 2022 Horoscope Predictions
Virgo Ascendant 2022 Predictions
As we all know that Jupiter is passing through Aquarius and will also pass Pisces in 2022 wherein Saturn is already moving in Capricorn however Rahu and Ketu continue in Taurus and Scorpio till April and will move in Aries and Libra in rest of the year Now, we are going to predict general results for all ascendants in 2022.Though these predictions are generalized and made for all the man and woman falling under the specific Virgo ascendant / lagna. Readers must always bear in mind that these predictions are common to all and may vary on the basis of other peculiarities of an individual's horoscope. But it is very sure that the pointed areas will be receiving favors or adversities, intensity may be varying depending upon individual's horoscope.
Virgo Ascendant 2022
This year for Virgo Ascendant 2022 is going to bring mixed results however till May from January onward there will be less difficulties than before in matters of enmity it is quite likely that someone will intervene and mediate in helping resolving the matter with the enemies, Virgo ascendant 2022 will feel less or reduced office politics particularly in the first half of the year. If Virgo ascendant 2022 native is going for any procedures or operation due to any ailment then success will be there. Native is likely to get blessed with correct medicine which will be curing long standing disease. If any litigation or court case is going on then for Virgo ascendant 2022 natives it will turn out to be positive. Virgo ascendant natives will be endowed with new ideas and strategies which will help in dealing with difficult people or situations in life.This year natives speech will turn out to be rather straight and pungent and may feel dissatisfied with family members.
From May onward in the year 2022 the Virgo ascendant 2022 natives will get chance to married or find suitable partner for their life if looking for alliance or wedlock if the native is in marriageable age. One good thing about this year particularly after May that these natives will get chance to go abroad and growth in work, profession could be seen and expected, overall relationship with wife will be good and if in business partnerships then will also run positively. During this time phase in-laws may extend or offer help support to Virgo Ascendants in one or other ways. Also, those who are undergoing bad phase in their relationship with spouse then this year may make situations conducive to come together again and will reduce bitterness to some extent.
Nonetheless in the year 2022 mostly after April native with Virgo ascendant may have sustained problems which will need last minute rescue in order to save situation, some sort of fear and hopelessness can be felt along with fear of facing tomorrow can be magnified. After April there can be instances when sudden expenses will pop up leading to debts, elderly member of the family need to be given extra care as they face may untoward situations in life. Virgo ascendant 2022 native may have to deal with sick people somehow. Nevertheless, on flip side Virgo ascendant native 2022 may have increased interest in occult or dark side of tantra mantra, black magic etc. and likely that these natives may get associated with any weird people. Those who are studying may feel as in their performance is not up to the mark and even going down.  There will be curiosity and unusual interest in sexual activities and likely that native will change his/her habit for the worst.
These natives should be careful from end October till first week of December as can attract any sort of trouble on face, tongue, teeth or even in family of self or spouse, trouble can be related to health, property, hurt, wound etc.
Between mid of April till Mid there are chances that father or self these natives could have sudden health issues or any sort of mental trouble.
However, this complete year is supporting child birth if these natives are planning in this year, if already having child, then they will be doing good in life and can bring accolades. It is likely that Virgo ascendant 2022 native will get promoted and may have to take extra responsibilities and new role, fortune will follow with coincidences.
teeth, mouth, face are the areas which can need any sort of correction or doctor's help will be required in this year.
Virgo Lagna Remedies 2022 : Worshiping Lord Shiva and Lord Ganesh will be of great help this year Virgo Ascendant males and females.
Shop at:https://www.jupiterkart.com/bracelets
BOOK YOUR HOROSCOPE CONSULTATION
Iti Shubham
Namo Narayan