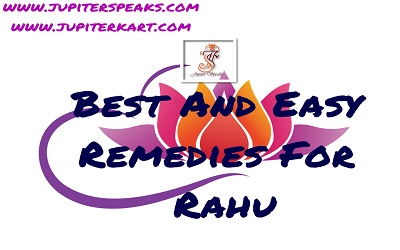 15 Best & Easy Remedies of Planet Rahu For Any Problem of Horoscope
Best & Easy Remedies of Planet Rahu in Astrology which can be done without much efforts and expenses.
Since in the first article of Rahu remedies we had given some common but useful remedies which we also use in our counsels and many readers do also get benefited by using them for their whatever purpose they have. In this article we would like to give some more remedies which can help readers and Astrology enthusiasts to get more benefits.
New Best & Easy Remedies of Planet Rahu
We have already given remedies for pacifying Lord Rahu in our website which are indeed best working and helping lots of people to solve their problem related to Lord Rahu. Nonetheless, we are trying to provide some more tested remedies which will give more alternative remedies to the readers by which they can perform as per their convenience and need. These remedies will help people who are undergoing transit, mahadasha , natal placement of Rahu in their chart.
Recite in sequence first Rahu 3 times Rahu Stotram then 108 times Rahu mantra beej/vedic followed by 3 times Rahu kavacham is complete package to pacify Rahu.
Pray to goddess Durga or Mahakali , recite Durga chalisa, Durga Saptashati and also can recite "Om Dum Durgaye Namah" atleast 108 times regularly will help a lot.
Avoid eating non-veg items especially fish, intake of any alcoholic beverage and also avoid wearing black color clothes in your day to day life when you are under Rahu affliction in any ways.
Respect your paternal grandparents, pamper them with gifts occasionally, take blessings from them, do not insult or use bad words against them.
One of best Best & Easy Remedies of Planet Rahu as Rahu is also connected to one or other ways to our ancestors hence donate kheer (Sweet rice preparation with milk and dry fruits) in temple or to priest on full Moon or New Moon days of the month.
One can also recite and listen to Shiva Tandav Stotram regularly daily with dedication in order to appease Lord Rahu.
Also Read: Best & Easy Remedies For Moon Planet For Any Problem of Horoscope
Feeding ants with sesame seeds mixes with sugar regularly is also good remedy to appease Lord Rahu, if not able to do regularly then atleast on Wednesdays and Saturdays.
One can bath with water of fennel seed or Saunf. Keep 30-40 grams of Fennels seeds in 300-500 ml of water overnight or more so that it gets extracted into water and in morning take 30-50 ml of that extracted water and mix it in your bathing water and bath with it daily.
Keep white sandal/ chandan tree (Santalum Album) root by wrapping it in brown cloth or tie small piece of sandal wood by wrapping it in brown cloth in right hand on Saturday/Wednesday.
Donation of Coconut or offering coconut or Barley(jau) in flowing water is also one the good remedy.
Donate dhoop batti, Incense stick or items of smoke to religious/sacred places, nearby temple is helpful Rahu remedy.
Eating in kitchen or where food is cooked or atleast 4 bites there and then continue eating somewhere else also good remedy for Rahu.
Keep a bunch of 11 feathers of peacock in living room or at bed room. Feeding birds with bajra (millet) is very helpful. Feeding fishes is also helpful.
Precautions during Performing Remedies for the Rahu
These are the common and time again tested rahu remedies which can be done by anyone. More over these remedies are spiritual alongside ethical and moral which can be practiced without much effort . But the degree of benefit extracted from these remedies for rahu  depends on other influencing factors such as  category of affliction, severity, consistency of performance, muhurtha and faith while doing so .
In special cases or after evaluating the horoscope thoroughly there are other specific remedies which are prescribed and performed only under experts supervision. That may include dedicated Yantras, Mantras , Homa, Yagyas  etc.
This should always be borne in mind that spiritual home remedies for rahu should not be blindly performed it should be properly consulted and analyzed first by the expert. The ethical do's and don'ts i.e. refraining also have huge impact as though each and every element around us must be representing anything of the planets. Keeping our moral conduct good  purifies our inner well being and helps to look beyond our imperfect senses
Shop at: https://www.jupiterkart.com/parad-mercury-showpiece-idols
BOOK YOUR HOROSCOPE CONSULTATION
Iti Shubham
Namo Narayan