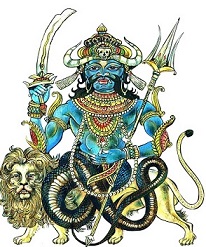 Characteristics of Planet Rahu (North Node) in Vedic Astrology
As per Vedic Astrology, these are the basic characteristics of Planet Rahu (North Node) in Astrology, role and importance of Rahu Graha and its representations in male and female life….
Planet Rahu Characteristics
Rahu Planet is the soldier of the solar system. Rahu Graha is a Malechha (outcaste, foreigners, such as Muslims, Christians etc.) by caste. Rahu is not awarded ownership of any sign. Rahu possess only head and face, shadowy, smoky planet, having serpent body, called as dragon's head, moon's north node, caput etc.

This Shadow planet (Rahu) is not considered as a planet but as ascending point of Moon (North Node). Son of Singhika, a female demon.

Rahu (North Node) is the natural Karaka of the paternal grandparents, foreigners in Vedic Astrology.

Neuter, sorrowful, courageous, emaciated, tall and serpentine physique, ugly awkward looking, smoky color (bluish or black) complexion. Foolish and ill speaking, argumentative, illogical discussions, harsh, windy, taamsick, in nature. Old multicolored, untidy, represents North Node (Rahu).
Also Read : All Basics About Planet Saturn
Rahu has lordship over secluded places, abandoned buildings, closed rooms with holes in it, places of termites and where serpents, reptiles etc. abode.

Old age, gambling, atheist, leper, foreign travels, illusions, deceptions, bad dreams, secluded places, cunning, opportunists, liar, patronizing, distaste, imprisonment, north direction, wicked, evenings, cheaters, betrayers, Urdu language represent planet Rahu.

Sudden events, Worshipper of Goddess Durga, violent nature, occult, para vidya, black magic, problems due to supernatural or spirits, immoral acts, spy, electronics, computer hardware, rubber and its products, bribery, dilemma, intoxicants, commission agents, circus, rumors are all planet Rahu representations.

Head, fits, small pox, epilepsy, tooth diseases, bone diseases, respiratory system, nervous system, handicaps, insanity, weakness are represented by Rahu.

Lead, Hessonite, Gomedh Gemstone, elephant's teeth and bones do represent Rahu.

Exalted in sign Taurus/Gemini, debilitated in sign Scorpio/Sagittarius. Mooltrikona is sign Gemini/Taurus, own sign Virgo.
Also Read : All Basics About Planet Ketu
Friendly Planet of Rahu: Jupiter, Venus, Saturn

Enemy Planets of Rahu : Moon, Sun, Mars

Constellation / Nakshatra : Ardra, Swati, Shatbhisha

Avataar : Vraah Avtaar (Poorn Avtaar)

Rahu Graha have Downward vision (Adhomukhi drishti)

No lordship of any house in kaalpurush's kundali.

Movement : 3 minutes per day

Dried trees and bushes, fruitless, dried heap of trees.
BOOK YOUR HOROSCOPE CONSULTATION
Iti Shubham
Namo Narayan