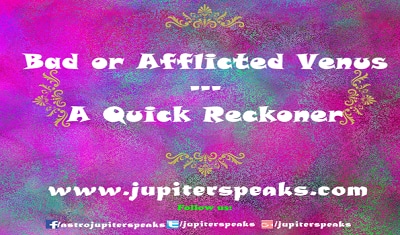 Bad or Afflicted Venus in Horoscope : A Quick Reckoner
In this writing, as per vedic astrology we would like to bring before the readers some probable effects, peculiar tendencies and behavior in the male and female who is having bad or afflicted Venus in the natal chart as well as in transit.
As we all know that each and every activity, living-nonliving along with surrounding relationships are directly indirectly signified by the planets in Astrology.
These are the marked features which can be seen while in initial scrutiny of planets in the horoscope of the native. It will become easy for the readers to understand the peculiarities generated as a result of Bad Venus once we will understand the significations of the Venus associated with the lives of all of us.
Venus is Brahmin Demon Guru represents :

Luxury, beauty, Vehicles, lust, natural karaka of the wife, female, joyful, charming in physique, has beautiful brilliant eyes, is a poet with curly hairs etc. Owner of the sign Taurus and Libra, 2nd and 7th in the zodiac, fancy and trendy designer clothes or clothes.

Venus has governance over bedrooms, places of sexual activity, and places that are meant for fulfilling lustful actions, places of dance etc.

Diamonds, opals, zircon are represented by this planet.

Face, eye sight, all reproductive secretions reproductive organs, excretory system of the body, glands of tears, beard, cheek, squint, glandular secretion, endocrine system.

Marriage, attractive robes and clothes, jewelries, sexual desires, youthfulness, all physical luxuries and sophistications, all luxurious vehicles, poetries, music, cinema, actor, actress, beauty products, fashion, modeling, beauty and grandeur, black hairs, curly hairs, oblique vision, hotels, photography are subjects related and represented by Planet Venus.
Native with bad or afflicted Venus will be possessing the following traits at large and adopted influences in the behavior that can be recognized as below: –
Native with bad or afflicted Venus at first place will be very lazy, comfort seeking, idle, driven by lethargy and finds very difficult to get along with any activity where physical or active mental involvement is needed. Native can sit or lie down on couch or bed for long times without any significant movements.

Bad or afflicted Venus creates repulsive personality rather than magnetic or attractive personality, physically may or may not appear to be good however natural glow on face will be lacking, native will have loose morals or should say become more of opportunity seeking.

Since Venus also denotes black money or unfair money so if Venus is polluted then native has urge for quick money making by hook or crook and all the earned money will then spent in gratification of senses somehow.

Cleanliness and hygiene becomes an issue for them, they can't hate to wear untidy, dirty or even same clothes or dress repeatedly for many times without yearning to wash it, they don't find any wrong in it until unless any unknown or outsider will point them out. In parties or get together they try to flaunt or show off as much as they can.
Also Read : General and working remedies of Venus as per Vedic Astrology
Bad or afflicted Venus native goes outside by wearing wrinkled clothes without ironing it. Innerwear will become very dirty and torn off earlier than usual. Bedroom linen or bedsheet will be dirty or stained and native reverses and reuses it rather than changing it.

Since Taurus rules 2nd house of natural Zodiac hence afflicted Venus also many a times gives foul or bad breath to the native, which can be easily recognized while having verbal communication with them.

Males usually go for long times without haircut and combing, unshaved beard, or if they keep beard then they don't groom or take care for it and will appear unhygienic and awkward as well due to laziness. Females do the same for their hairs, goes unwashed and uncombed for longer time.

Bears powerful and unusual tendency that if anyone can come up to finish any work or daily routine job for them. Troubled eyesight or poor vision.

Vehicles used by the native will be very dirty and he/she seldom cleans it or maintains it, frequent problems such as wear and tear, malfunctioning, sudden unexpected trouble in the vehicle is the result bad or afflicted Venus.
Also Read : Effects of Venus in 7th House on Marriage, Spouse etc.
Afflicted Venus gives seminal issues in Men such as low sperm count, thinning and also endocrinal issues such as thyroid to both Male and female native.

Males experiences sexual imbalances such as perversions, extreme or diminishing desires, lack of interest or odd behavior while along with opposite sex, womanizing too is the outcome of bad Venus.

Bad mouthing and disrespectful behavior towards the woman folks, passing comments and lewd remarks.

Delayed marriage or matrimonial relations may be spoilt due any of above stated reasons and also sometimes leads to many illicit relations, at worst note leading towards debauchery, scandals as well.
Readers should always bear in mind that above results are probable and can be modified as depends on other factors such as afflicting planets, dignity of afflicting planet, shadbala, combustion, vicinity in degrees, status of Venus in Navamsha, astakvarga etc. Thus, do not apply it bluntly by merely seeing any single factor but should be used wisely but keeping in mind the above said.
BOOK YOUR HOROSCOPE CONSULTATION
You may also read articles based on Venus
Also Read : Venus Retrograde & Marital Disharmony in Male.
Also Read : Rahu & Venus Role in Love Affairs
Also Read : Delay in Marriage ( Late Marriage) : A Very Simple & Easy Approach
Iti Shubham
Namo Narayan
Jupiter Speaks