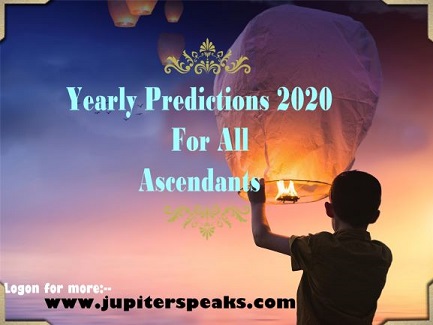 Yearly Predictions 2020 for All Ascendants Part-1
Yearly predictions 2020 for all ascendant based on vedic astrology principles. As we all know that Jupiter will pass through Majorly Sagittarius in 2020 while Saturn will pass through Capricorn in 2020 however Rahu and Ketu will continue in Gemini and Sagittarius till September  2020. Now we area going to predict general results for all ascendants in 2020.
Yearly Predictions 2020 – Aries Ascendant
Native will having increased interest in religion and will be likely to have enhanced spiritual disposition. Native will have improved bonding with the father and they can expect that relationship with the father to be more positive, cordial and helpful as well.  If relationship with father is not good there will be new way of looking at critical behavior of one's behavior, Aries natives will earn respect, humility and affection from elders by respecting them. He/she will be more inclined towards religious disposition and will find occasion or chances to visit shrines/holy places. Those who don't have guru/mentor it is highly likely that they are going to meet one, chances of having long distances journey will be on rise this this year.
This year is going to be very crucial from career/work point of view, likely to have change of job for those who wish and working in private sector but those in government job can find change in residence or transfer or change in department however no matter with which sector you are working certainly work/profession will fetch more responsibility and change in role/function. Nonetheless, there will be promotion, salary hike and hard work done with sincerely then it can even attract recognition/admiration for the same. Private job natives will be having higher chance to change/shift. Native can be a part or could perform karma related to dead.
During this year native will feel energetic or valorous or even pretend to be brave however many times will be confused or unknown where and how to use that valor, electronic gadgets, laptop, mobiles may not function properly or will be having issues more often than before. Younger sibling or father-in-law will suffer due to health, you or relatives could have throat related issues where as Aries ascendant can feel strained relation with the aforesaid relatives.
Yearly Predictions For 2020 – Taurus Ascendant
During this year 2020, you will be having increased in occult, mystical sciences, metaphysical and also affairs related to property (unearned). There will be an increased interest or activities related to in-law's family, will find chance to help persons who are ill or need some sort of support. Natives with Taurus rising will be successful in any sort of a surgical intervention if they looking for their health-related issues, any prevailing disease or ailment will not trouble you much and not much aggravation will be felt but if treatment is done then it will be successful. Those who are having compounded debt they will feel sigh of relief this year as their debts can be partially or fully cleared. Taurus natives will be having slow growth in terms of work however any situation will not beyond limits or uncontrollable atleast this year.
This year is the end of the worrisome period for the Taurus ascendant people, old year problems which have been nagging or troubling in the previous year will be ended or almost will stop troubling you. Hence this year will herald a new start or a fresh beginning, loans will be certainly be reduced or repaid, work tension will be appeased and there will likely instances when you will feel sudden improvement in the business/self-employment set up, losses will be reduced and gains will be improved. Those people who are looking for admission in good colleges they will be successful.  Gear up for visiting holy places and meeting holy people. Servicemen/women will be seeing change in boss/superiors and thus relation with the boss will turn to be positive.
Yearly Predictions 2020 – Gemini Ascendant
This is going to be bit stressful for the Gemini ascendant people, enemies may trouble or at least will be reason to worry.This year can attract disrespect or loss of position or humiliation atleast. Those who are under going bad dasha connected to career or profession can have to face change of place to unknown or lesser known places. Income of the native can shrink or blockage in the source of income cam be felt, health issues may be adversely troubling you. Loss in business or enterprise will be seen thus it is recommended that be very careful in big business decisions. Those who are in competitive exams may have to settle with less than expected, if someone is in medical line then then need to be more careful.
Nonetheless, those who are seeking wedlock or seeking partner can get married, also love birds can convert their relationship into marital bond. Even those who are looking for partner to enter relationship they can find someone .This year will be fetching opportunities for foreign travel. Those who are married they will be enjoying peaceful time with better half. Business partnership or alliances can turn positive this year. In-laws will be helping and supporting to the Gemini ascendant people. Those people with troubled relationship will be feeling some relief or their separation/divorce will end up peacefully.
This year native with Gemini ascendants will be having any sort of a fear, timidity and lack of courage and confidence as well. During this year native can have feel of disrespect and loss of self-esteem as well. There will be confusions and illusions in decision making, thinking or thought process will be clouded or marked with muddled thoughts. Native will have peevish nature developed or getting irritated over small things. Many will be having extreme behavior and moodiness developed with darker face and sudden loss of weight.
To Be Continued……
BOOK YOUR HOROSCOPE CONSULTATION
Shree Shubham
Namo Narayan