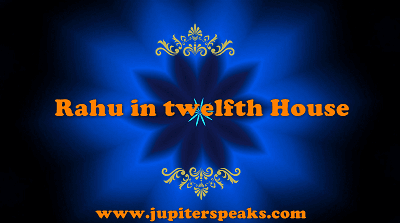 Effects of Rahu in 12th House on All Ascendant in Horoscope
As per Vedic Astrology texts, presence of Rahu in 12th House from Lagna in birth or Navamsa chart in Horoscope has numerous good as well as bad effects on both Male and Female for all ascendant / rising sign.
Results of Rahu in 12th House
Rahu in 12th House is not considered good in both Rashi and Navamsa chart, as this is the house of expenditures and exit from the world. These males & females will suffer on account of his past life Karmas or deeds, things will happen suddenly and the expenditures will occur suddenly which will be unexpected and troubling to the person yet person will be prosperous, immortal and of helpful nature.

Diseases occurring to the person with Rahu in 12th house will not be diagnosed easily or will diagnosed after difficulty. Native will suffer from eye diseases or troubles in the left eye.
Read More : Effects of Rahu in 11th House in Horoscope
These man & woman  will not receive due reward of the hard work which he/she puts in any work. Success or gains will come after much trouble, it may come late in the life, native may have tendency to become friend of the wicked and enemy of the good.

The first part or early life of the native will not be much significant and filled with much struggles and failure but second half or later part of life will be successful and remembered. Native will be quarrelsome, idle, immodest yet benevolent and rich.

There will be much traveling mostly foreign travel due to work or study purpose. If Rahu has good strength in Navamsa (D-9) as well, then foreign settlement also possible.

Also, such man and woman will face separation from family or spouse, usually person repents after losing temper.
Read More :  Effects of Rahu in 10th House in Horoscope
From spirituality point of view native will be good in spiritual social affairs and also god fearing.

If Rahu in 12th house is in the masculine sign then, two marriages very likely, dissatisfaction from own wife leading towards debauchery causing long separation is seen.
Words of Wisdom for Rahu in 12th house
In above article portrayal of character and attributes of man and woman with Rahu in the twelfth house are extremely general in nature &  are influenced by the various factors such as planet occupying the house, aspect of planets on house, their strength etc.
 Above stated are the general common points which are basic traits of Planet occupying a particular house hence should not be applied bluntly and blindly merely seeing the sign & planet occupying the house.
We suggest, everyone should get their horoscope evaluated with competent astrologer to check the flaws and doshas etc. because there are many other points to ponder over and we have touched a general aspect because of length of article and writing. We are trying to create  to overview about this lengthy topic and will be delivering more on time to time.
Remedies for Rahu in Twelfth House.
These general Rahu Remedies for 12th house  can be performed for problem related with Rahu dosha during Rahu Mahadasha & Antardasha, adverse transit, malefic sign etc in horoscope.
BOOK YOUR HOROSCOPE CONSULTATION
Iti Shubham
Namo Narayan
Jupiter Speaks
You can read all latest research articles & remedies published regularly on our blog. Don't forget to like us on our official pages
You can also connect with us on Jupiter Speaks Official Facebook Page.
You can also connect with us on Jupiter Speaks Official Twitter Page.
You can also connect with us on Jupiter Speaks Official Quora Page.