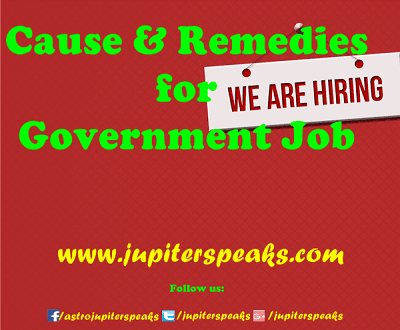 Government Job in Kundali – Causes & Remedies
Service or Job whether its government  job is being a driving and catering human livelihood since time immemorial and the easiest medium based on barter system under which a person helps, facilitates or carries on orders delivered by other person or organization and in lieu of the facilitation he/she receives exchangeable item or say money in today's scenario.
Being one of the profound facilitator of life among peculiar such as air, water etc. so is the money too otherwise survival is not only difficult but next to impossible in the world today where everything can be purchased with the help of money.
Thus, everybody wants a continuous and strong source of income or money so that livelihood can be met with utter level of satisfaction and fulfilling demands of the family, self and society.
Among the various available modes of jobs or services available today, serving to government is relatively considered to be most secured and powerful source of income when other modes such as private job do not carry much security and reliability per se in the modern socio-economic paradigm.
Read More : Check Effects Of Kaal Sarp Yog in Horoscope
So every body relies and looking for any kind of service to government to secure their livelihood and attain a respectable status in society along with financial security. But in this parlance getting govt. job is not an easy task among the huge amount competitors and significantly raised level of difficulty.
One should have to strive hard with great perseverance and disciplined preparation of particular field of governmental service then only success in selection can be achieved.
With this preview and introduction, our intention is to put insights and helpful Vedic astrological principles to approach path heading and show the promises if any native have or not but to strive and improve basics of the planets in the Kundali partaking in this specific field of concern.
Although there are hundreds of permutations and combinations of planets and yogas available in horoscope signifying one to be serving government or rendering native to be in government.We will stick towards basics yet source of all possibilities related to view point of government job.
Check Government Job in Kundli
Firstly checking the placement and strength of the below in rashi, bhava, and dasamsha and for confirmation in navamsha chart of Kundli.
Planet Sun – being sources of all authorities, power, fame name, politics and all subjects related to politics, government.
Planet Saturn– karma karaka (significator of deeds), servant, judge, decision maker,politics
Karmic Planets Rahu & Ketu in government job – owning flavors and colors of house and planets influenced
Planet Jupiter & Mercury – Significator and source intelligence, retentivity, application of mind, reading, writing
Planet Mars – Significator of valor, courage, desire to achieve, accomplish task, initiator
Though other planets too contribute need to be checked but it is not so easy to figure out their influence.
After observing these above planets then check the occupancy of the these planets in the financial Trine ( Artha Trikona) i.e. (10-2-6). Primarily exalted Sun is truly able to attach a person somehow with government. If in kendra or kona, apart from that well retrograde mercury with Sun in  kendra  unafflicted, provided sun having higher degree is capable to bestow one with government job at good rank.

Presence of un-afflicted Sun , Saturn, Rahu , Jupiter, Mars 10th in horoscope is primarily indicating the career to be in government sector. Similarly density of these planets in 2nd, 10th ,6th house clearly explain all the story undoubtedly forms government job yoga in kundli.
Presence of benefic planet in 7th indicates towards gain of rank, position (pad prapti) form major yoga for government job but do not guarantee the government sector but if above condition are fulfilled then chances are maximized.
Do not ever forget to asses and check Lagna and lord, 11th house and 7th house also in kundli, judge the primary obstacles from the 3rd house. Presence of any planet mostly malefic will create hindrance for sure it can facilitate in other areas but not in service point of  view. If lagna & lagna lord is weak in kundali then  surely it is going to create hindrance via health , he/she may not able to perform or concentrate on account of health.
Lastly, but not the least density of planets by occupation or aspect on 11th  house of horoscope of gains will undoubtedly reveal the degree and level of growth and name fame etc.
Read More : Guru Dosha गुरु दोष : अज्ञात निवारक उपाय
As we said initially we will deal with rudiments not with cumbersome configuration yet these rudiments will constitute all configurations which are available in texts. It can be checked that these which we explained are acting only in some or other ways to manifest to award a native with government job.
Here we are revealing very rudimentary remedies which can be even opted by the native itself easily after introspection finding hindered area to improving context of government job.

Government Job Remedies
Lack of self-confidence, inferiority complex, easily loosing concentration, bone troubles while studying for government job .
Do not sleep after sunrise, wake up before sunshine and sit in the sunshine till 30 min after sunrise , during that period do only mindful chanting not to be uttered ( Keval mansik japa) any mantra related to lord Sri Ram or simply "SRI RAM RAM RAM" or "HARE RAM KRISHNA"or "SITA RAM" with rhythm of every breath you inhale and exhale or  mentally say"SO" while you inhale and "HAM" while you exhale , do this as long you can on daily basis then see after few months the internal transformation coming and hindrance moving away.
Offer fresh water in bronze vessel mix some jaggery and roli (red color powder used in rituals), red flower chanting along 11 names of Sun as mantra or any Sun Mantra.

Do not forget to visit any temple, church, mosque etc. on Sunday and sit there for sometimes.

If possible do Aditya Hridaya Strotram regularly or atleast on Sundays.

Wear ruby in ring finger only after expert assessment.
If facing lack of desire, urge of procrastination, low courage, unwanted anger, timidity in Government Job
Keep fast on Tuesday, refrain from eating salt in any form.

If possible do Sundar kand path in evening on every Tuesday in Lord hanuman temple with full dedication.

Worship Lord Hanuman by chanting Hauman Chalisa 7 times daily or worship Lord Kartikeya, Subramanyam. If possible do Hanuman kavach as well.

Japa of the Mars mantra: Om kram kreem kroum sah bhaumaya namah, regularly, 7000 times in 40 days.

Always do exercise regularly without fail to have proper blood circulation ,take warm food.

Wear Red Coral (moonga) only after experts advice.
If  facing defeat at the last time, in last round, in job interview etc,  problem with lack or slow comprehension, poor retentivity, problem while learning, reading, intellectual power in preparing for government job.
Start doing fast on every Thursday or atleast on Ekadashi with full devotion , do not eat anything made of rice or rice on Ekadashi. Visit lord Vishnu or Lord Venkateswara temple or Lord Krishna temple positively.

Recite Vishnu Sahatranama or regularly in morning time or atleast Narayan kavach regularly or also can recite Shri Rudram, Guru strotram regularly.

Worship banana tree on every Thursday by lighting pure ghee lamp, with jaggery, chana dal, turmeric regularly, worshipping peepal tree on Saturday regularly

Chant Mantra : Om jhram jhreem jhroum sah gurave namah, 16000 times in 40 days.

Put tilak of kesar /haldi on forehead, , avoid wearing footwear while lunch or dinner etc, touch your parents feet daily seek blessings without fail

Wear yellow sapphire strictly under expert supervision.
Words of Wisdom
Our aim of this article is to throw some light on configuration and some prospective remedies which every aspirant of government job can follow for atleast three months to see the outcome. These remedies will bring transformations from the grass root level and certainly help them to overcome come their problems.
Above it is very necessary to find out if there are any future chances of government job or not otherwise why to waste time in preparation rather utilize & invest energy in other fields where instinct or horoscope directs success. So, get your horoscope assessed first, act accordingly to avoid get disheartened at the end & save your time because ultimately time is money.
For personalised detailed consultation & effective specialised remedies
Namo Narayan