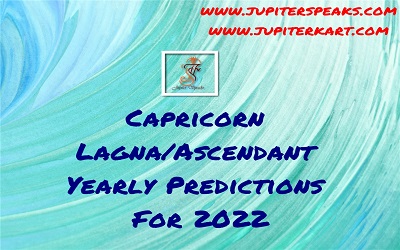 Capricorn Ascendant 2022 Horoscope Predictions
Capricorn Ascendant 2022 Yearly Predictions
As we all know that Jupiter is passing through Aquarius and will also pass Pisces in 2022 wherein Saturn is already moving in Capricorn however Rahu and Ketu continue in Taurus and Scorpio till April and will move in Aries and Libra in rest of the year Now, we are going to predict general results for all ascendants in 2022.Though these predictions are generalized and made for all the man and woman falling under the specific Capricorn ascendant / lagna. Readers must always bear in mind that these predictions are common to all and may vary on the basis of other peculiarities of an individual's horoscope. But it is very sure that the pointed areas will be receiving favors or adversities, intensity may be varying depending upon individual's horoscope.
Capricorn Ascendant 2022
This year according to Capricorn ascendant/lagna horoscope 2022 is going to be good generally. This year 2022 will bring new beginning in life, change in attitude, change in thought process, ideas and even a personality change will be felt, change in life's priorities will be felt, new job opportunities will come and if the native is in the right age, then fixation of marriage or any proceeding related to marriage could happen. Change in place or residence can also happen.
After first quarter of 2022, native with Capricorn ascendant 2022 will feel lack of peace prevailing due to one or other reasons, there will be chances of getting hurt, wound or accident due to vehicle, after April drive your vehicle very carefully and sincerely otherwise regret may come to these natives. Capricorn ascendent natives will observe that their vehicle will demand more repair or service than usual, also they should be attentive while parking here and there as this year chances of loss due to theft can occur also, they should not leave their home all alone without anyone and must lock properly and take safety before going anywhere as chance of theft etc. is there.
As per Capricorn ascendant 2022 horoscope siblings of the Capricorn ascendant is to going to to do good in life  and also they will be enjoying good relation with each other, relation will turn out to be more positive and polite conversation will be seen.
Also Read: https://jupiterspeaks.com/sagittarius-ascendant-2022-horoscope-predictions/
Capricorn ascendant 2022 native will not be inclined to go home as she/he will feel the place to be gloomy and dark. They may be some natives who may encounter negative events in life to get depressed. Mother and father of the native may feel health issue and will be cause for concern. Illness or any such issues can be problematic. During this year selling or purchase of property can be problematic and the same will lead to some kind of trouble. During this year after April sale and purchase of property, land, flat etc.  to be avoided. Change of place or transfer can also in this year or an urge to change his/her dwelling place all of a sudden for no reason.
Capricorn horoscope 2022 depicts that the natives will improving his/her communication skills and turning communication skills in positive way. It is highly likely that Capricorn ascendant 2022 may be engaged in new hobbies, learning new way to communicate in social media even becoming more active than before, dancing, singing/music etc. can also learned in the latter half of the year.
In the second half of the year mostly from May onwards Capricorn ascendant 2022 natives are to be enjoying and will be good from travelling purpose, visit to holy places, shrines or any sacred places nearby or far is going to happen. Whenever there are travelling schedules then same is going to be good and smooth.
Though this year is also capable to bring break in career or can make the native to take long leave this year or any sudden event can happen which can give you chance to change or search for new opportunities. Hence aggression should be avoided at workplace this year.
Between mid of April till Mid May and also from October-November take care of parent's health. From 2nd week of April till 2nd week of May there are chances that anything in terms of new relationship can happen also can attract disrespect or humiliation to mother or to self.
Nonetheless these natives should be careful from end October till first week of December as can attract any sort of injury, cut wound, accident to father's family or mother-in-law and also to in laws of younger sibling.
Shop at: https://www.jupiterkart.com/new
Capricorn Lagna Remedies 2022 : Worshipping Lord Vishnu and Lord Ketu will help a lot to them this year Capricorn Ascendant males and females.
BOOK YOUR HOROSCOPE CONSULTATION
Iti Shubham
Namo Narayan