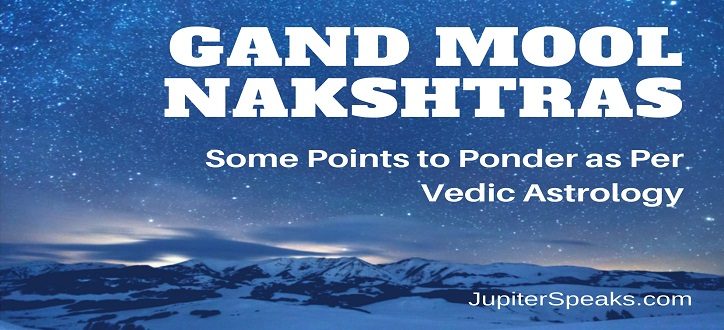 Gand Mool Nakshatra – Some Points to Ponder
If a child is born in a Gand Mool Nakshatra (Constellation) then parents should perform a Gand Mool appeasement ritual (Gand Mool Shanti) by a learned vedacharya or brahmin on 27 day approx.

The point here should always be bear in mind that the ritual must be perform on the same nakshatra after almost 27 days when it re-appears. It is the primary and mandatory condition.
We have seen people selecting some other nakshatra of Gand Mool on some other day and say that this nakshatra too falls in Gand Mool. This must be avoided.
Read More : JUPITER PLANET OF WISDOM, KNOWLEDGE AND FORTUNE
Ketu and Mercury rules the Gand Mool Nakshatra (Constellations). Ketu is a planet related to past birth and karmas of the native so what karmas good or bad the native had done in past life is depicted by Ketu .So many a times we see something happened good or bad in family, parents if a child is born in Gand Mool Nakshatra.
We have seen those who are born in Gand Mool Nakshatra are very apt, carry high energy, enthusiastic, and raised high in life.
Read More : AVOID NON-VEG FOOD, LIQUOR IN SHANI MAHADASHA
It is not a bad at all, initially it may seem as though but later on good.
The appeasement should not be neglected or somehow avoided as we see in cases facing obstacles, any unforeseen consequences, and low growth although it may be of many reasons but this is also considered among them.
Namo Narayan
Jupiter Speaks